Sound And Vision: Pop Goes the Previews — The Best and Worst of Fall Movie-Trailer Music
Whoever invented the movie preview must be some kind of genius. Because of them, half the fun of seeing a movie on the big screen is getting there"to the main attraction, that is. It always takes a few good trailers to put me in the mood. But sometimes, if the words don't get in the way (damn, bad screenplays!), the music does. Too often terrible songs ruin perfectly good trailers"or make bad ones worse.
That said, movie-trailer music has come a long way. For a brief period in the early '90s, nearly every other one seemed to feature the soothing new-age sounds of Enya floating by in the background. Nowadays we get a larger assortment of musical backdrops (pop, classical, rock, hip hop, techno and, of course, vintage Motown), some of which can actually turn must-avoid into must-see — at least until the coming attraction is over and sensible thinking once again prevails.
Variety, however, hasn't done away with predictability, and recently, while screening trailers for some upcoming autumn releases, I noticed a few rules at play.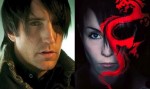 1. No self-respecting Oscar contender stoops to the tops of the pops. David Fincher may have gotten Trent Reznor of Nine Inch Nails to score The Social Network last year, but he knew better than to use Radiohead's 1992 hit "Creep" in the trailer. Instead, he used a haunting cover by Belgium's Scala & Kolacny Brothers. This year, for The Girl With the Dragon Tattoo (December 21), he punctuates the sneak-peek action not with Led Zeppelin's classic version of Immigrant Song but with a near-equally exhilariting remake by Reznor and Karen O from the Yeah Yeah Yeahs.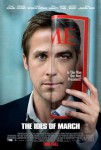 And so it goes this Oscar season. The sales pitches for Contagion (September 9), The Ides of March (October 14), The Descendants (November 23) and Carnage (December 16), too name just a few upcoming potential 2012 Academy favorites, are all talk (and instrumental incidental music), no singing. But who needs distracting silly love songs and golden oldies when you've got so many talented thespians"Ryan Gosling, Marisa Tomei and Phillip Seymour-Hoffman in The Ides of March; George Clooney in The Ides of March and The Descendants; The Talented Mr. Ripley trio of Matt Damon, Jude Law and Gwyneth Paltrow in Contagion (which features a whopping seven Oscar winners or former nominees); Jodie Foster, Christoph Waltz and John C. Reilly in Carnage; and Kate Winslet in Contagion and Carnage"all of them baring their hearts and souls in under three minutes.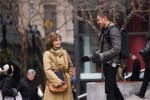 2. The bigger the song, the worse the movie probably will be. If negative reviews are a foregone conclusion, why not throw in a massive hit to make viewers forget about the plot and just focus on the music and the stars? And so we get Pink's "Raise the Glass" in the trailer for New Year's Eve (December 9). Unfortunately, not even Pink's No. 1 smash can distract from the fact that Hilary Swank has no business being in a romantic comedy (again), Robert DeNiro is slumming (again) and Michelle Pfeiffer and Zac Efron don't belong in the same movie (again). Weren't P.S. I Love You, Little Fockers and Hairspray enough?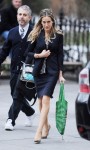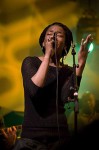 3. If Sarah Jessica Parker is going to start talking to the camera again (see early episodes of Sex and the City), you'd better de-camp the mood with some serious music. After offering a snippet of Duffy's "Mercy," the trailer for her September 16 romantic comedy I Don't Know How She Does It (which sort of looks like Sex and the City 3 without Charlotte, Miranda and Samantha) seques into Sabrina Starke's "A Woman's Gotta Try," a two-year old song that should have been a bigger hit than the movie's probably going to be.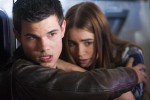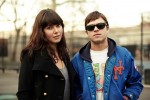 4. Yes, sometimes great songs happen to bad trailers. Thank God for Sigourney Weaver. If anyone can get me to want to see Abduction, Taylor Lautner's first headlining vehicle (September 23), it would be her. Coming in a close second: "Kids," a fantastic song by Sleigh Bells that had somehow passed me by until it popped up toward the end of the trailer. If Abduction can help turn Sleigh Bells into a hit act, then Lautner's abs would have done some good, after all.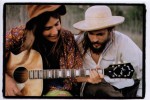 5. Indie tunes give indie films more street cred. Because wouldn't an ad for 50/50 (September 30),  a Summit Entertainment release about a twentysomething with cancer (featuring Joseph Gordon-Levitt, Seth Rogen and Edward Sharpe and the Magnetic Zeroes' "Carry On" in the trailer) just have been so so wrong with Katy Perry chirping in the background?
Five Great Trailer Songs That Made Me Want to "Play It Again, Sam" (the Tune or the Preview, Not Necessarily the Movie)
No Ordinary Love by Sade in Indescent Proposal
"Mr. Blue Sky" by Electric Light Orchestra in Eternal Sunshine of the Spotless Mind
"Jesus Walks" by Kanye West in Jarhead
"Paper Planes" by M.I.A. in Pineapple Express
"Dog Days Are Over" by Florence and the Machine in Eat Pray Love