Sound And Vision: Can Florence + the Machine End 2011 Where Adele Started It (on Top)?
Florence Welch must be in a state of extreme suspense right about now. And if she is, no one would understand how she feels better than Adele. At the dawn of 2011, Adele was in the very same position in which the lead singer of Florence + the Machine now finds herself, coming off a GRAMMY-nominated (and in Adele's case, GRAMMY-winning) US debut album with extremely high expectations from people who are music fans, music writers and both (like yours truly). Would album No. 2 be career boom or bust?
For Adele, the rest is recent music history. Her sophomore album, 21, is the biggest seller of 2011 so far in the US, where it has launched two number one singles, song of the summer "Rolling in the Deep" and the big-boned ballad "Someone Like You."
Florence, in a sense, is someone like Adele. Both British acts broke big in the States on TV (Adele on Saturday Night Live in 2008, Florence at the 2010 MTV Video Music Awards); both were nominated for the Best New Artist GRAMMY (Adele won, Florence lost); both have worked extensively with producer Paul Epworth; both were cited by Beyoncé for influencing her during the making of 4; and both played major roles in making the pop charts safe once again for British blue-eyed soul.
But is this where the similarities end? Does Florence's upcoming second album, still untitled as of mid-September, have the same potential as 21? The power to move continents of fans with its fiery emotion, bringing them to their knees and sending them crawling en masse to iTunes?
Judging solely from the first single, "What the Water Gave Me," I'd have to say that I'm not so sure. (Like "Deep," it was produced by the ridiculously talented Paul Epworth, whose work on Kate Nash's "Foundations" means that he's completed the perfect female-Britpop triple in four years flat.) Aurally, it's exactly what we've come to expect from Florence: moody, haunting and obtuse, a lovely blend of '60s hippie-dippiness and mystical abstract expressionism. What it lacks, though, are the deep hooks of "Rolling in the Deep." Good as it is, it doesn't burrow into your heart and soul, refusing to ease up and out until you've been thoroughly floored.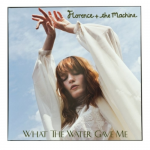 The week after its August 23 worldwide release, the song debuted at a lowly No. 91 on Billboard's Hot 100, which is not cause for immediate alarm since "Rolling" was a slow-starter, too. But it's hard to look at the video for the single and predict it being nominated for seven MTV Video Music Awards and winning three of them, as Adele's clip was. (Let's hope the behind-the-scenes montage is replaced soon with something more colorfully conceptual.) It's impossible to listen to the song and imagine any of the contestants giving it a go next season on American Idol.
Which might be the problem for Florence + the Machine overall. As enchanting as the group's music is, it all tends to blend into a gorgeous wall of sound. No particular four minutes of Lungs, the 2009 debut, not even the great semi-hit single "Dog Days Are Over" (No. 21 on the Hot 100), stood out as being music for the ages, something those of us who are still living in 2061 will remember the words to.
Musically, "What the Water Gave Me" is a success. But we all know that for the most part, art doesn't sell records on its own. For left-of-center artists like Florence + the Machine and pre-breakthrough Adele, hooks that pop and can be easily imitated, if not quite duplicated, are essential.
Fellow performers won't be pouncing on "What the Water Gave Me"  to cover it, the way Linkin Park, Jeremih and so many others did with "Rolling in the Deep" and "Rumor Has It," which deserves to be the third No. 1 U.S. single from 21, and it won't likely end up on Glee. Chances are the song won't give immortality to Florence and unbridled commercial momentum to the new album, nor will the group give Adele serious chart competition because of it. After only two weeks, it was already on its way down the UK singles chart, having debuted and apparently peaked at No. 24.
But then a year ago, I never would have guessed a song like "Rolling in the Deep," so different from everything else on the charts, would have gone as far as it did. At the very least, Florence + the Machine will sound great trying to repeat the feat.