Live Wired [Review]: Chris Carrabba 11/20

Acoustic performances typically have a sense of quiet and calm about them. These shows tend to be in front of a smaller audience without the force of a full band behind them. Sunday night, at the Paradise Rock Club, was completely different; It was a simple acoustic performance that turned into one of the most intense shows. A sold out crowd filled the venue in anticipation of seeing Chris Carrabba, who came out armed with just an acoustic guitar and the microphone in front of him (which he hardly had to use). Carrabba, who has been releasing music for over twelve years with Dashboard Confessional and Further Seems Forever, is clearly meant to be on stage. He has such a unique and powerful control over the crowd with just his voice and his words.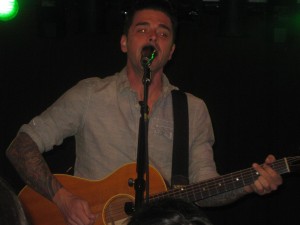 Most of the people in attendance were old enough to have spent most of their middle school years listening to Dashboard Confessional and feeling like the music was the soundtrack to their lives. It felt like a room full of people reliving their past through music, which brought out real emotion in everyone's voices. Here at Live Wired, we know and appreciate how beautiful the sound of hundreds or thousands of voices singing in unison is. At most concerts, an artist will typically let the crowd sing one or two parts of their most popular song, a couple of lines that seem to resonate with everyone. The crowd for this particular show decided they were going to sing their hearts out and not stop the whole night. Most of the time, Chris simply walked around the stage with his guitar and sang with the audience rather than to them. At one point, he joked that these fans all had apparently decided which parts they were going to sing, and even started making up their own harmonies.
One of the most spectacular examples of the atmosphere of this show came during Carrabba's performance of "The Swiss Army Romance", the title track from Dashboard Confessional's first album. It felt like the crowd was one unit, coming together to sing and make an already heartfelt song even more emotional. It's rare when a musician can really connect with a crowd that way that Chris Carrabba does. Everyone in the room, from the fans behind the barricade to the ones standing on balcony, were compelled to sing. The bridge of the song was by far the most powerful part; Chris didn't even have to ask or gesture to the crowd because they knew exactly when to come in. He just stood back, strummed his guitar a couple of times and let everyone take over. But, the best part about his performances, is that they're not just one giant sing-along. He still brings so much to his live shows and takes his music to a whole other level. During the parts when he chooses to sing into the microphone, he really takes over and lets his voice belt out the most beautiful notes, always to a roaring applause from the crowd.
If you have the chance, check out Chris on the rest of his tour dates this fall!