Twin Berlin Hits The Studio With Travis Barker
Since their win in Guitar Center's "Your Next Record with Travis Barker" Competition last March, Twin Berlin have been busy. Not only were they flown to LA to record at Red Bull Studios with renowned drummer Travis Barker, but they were also interviewed by MTV, wined and dined by Guitar Center and hooked up with some new swag from The Fast Life, Travis Barker's clothing line. It's safe to say their time in LA was a whirlwind adventure! Check out what Matt, Sean and James had to say about their experience.
SUNDAY: "We landed in LA and everything started to really sink in. Picked up the rental car, rolled up to the hotel where we were met with screaming fans trying to bust in the front lobby. OK, that didn't really happen, but we can pretend, right?"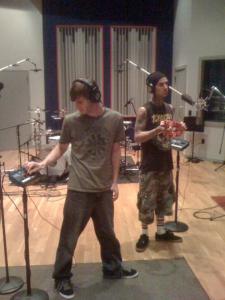 MONDAY: "Day 2 in Los Angeles kicked off our recording at Red Bull Studios with Travis Barker. Even before we got there the crew was loading in Travis' drums and getting everything together to start tracking (oh, and James is using Travis' kit for the recordings!!)"
TUESDAY: "Tuesday started out with more of the same… potty humor, working out the click track/setting the tempo, tracking like a pro. We've done some things in studio that I never thought would happen in a million years."
WEDNESDAY: "When we arrived in studio, it was a madhouse. Travis and crew were already there, Haven was setting up for the EPK interviews and MTV news stopped in to do a brief interview with us and with Trav."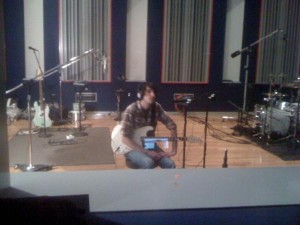 THURSDAY: "I think Holmes needed some peace and quiet to make sure that he actually got some work done on these mixes instead of getting caught up in the constant storytelling and joking around. With that being said, we decided to take advantage of finally having a few hours during the day to get out and see some sights."
"After our tour, Travis came back into the studio and we took a listen through all the mixes, talked about some different guitar tones/effects and worked out some of the panning for the tracks."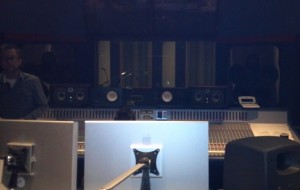 FRIDAY: "It was the last day in studio, we had a late call time and basically went in to listen to some more mixes, change a couple things and say a heartfelt goodbye. Of course, we had to tag the wall before we left."
SATURDAY: "A sad day, we were all moving at half speed, hoping that we wouldn't really have to say goodbye to the good life."
Check out Twin Berlin's Blog for the full story!