Sound And Vision: Britney Spears At 30 — Where Does She Go From Here?
It seems like just yesterday: She was invading the dreams of pedophiles and lusty teenage boys everywhere. But that was 1998, the year Britney Spears, then sixteen, broke with her No. 1 debut single, "…Baby One More Time," and its accompanying video, in which the singer made an unforgettable first impression as Lolita-lite, a sexy school girl who was up for just about anything.
At the time, Britney seemed destined for the cut-out bin in two years flat. Her synthetic pop sound didn't sound built for longevity. And didn't the name Britney Spears, which was too close for comfort to that of '80s hair metal heads Britny Fox, have one-hit wonder written all over it?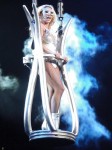 Boy, was I wrong! Thirteen years later, she's still with us. Her albums may no longer be as huge as they were at the dawn of the century, but she's still one of the leading ladies of pop. Super-stardom, however, isn't everything. Even an act with a hit list that's as thematically shallow as Britney's must crave a little artistic growth. She'll turn thirty on Dec. 2, but to me, she's still seventeen"partly because I don't want to admit that I'm getting so old, but mostly because Britney herself still doesn't sound as if she's a day over twenty.
Sure she's lived a lot. There have been two marriages, two divorces (actually, one divorce, one annulment), two children and countless scandals. I interviewed Britney for Teen People right after the release of her second album, Oops!… I Did It Again, in 2000, back when she still hearted Justin Timberlake. She struck me as a sweet teenage girl with a maturity level that matched her age. I don't know what she's like today, but her music doesn't make her sound much older.
Yes, the tunes have improved somewhat. There are now more good songs per album"though it's telling that her musical high point, 2007's Blackout, was the one which, by some accounts, she wasn't all there for during the recording process. And let's not forget that disastrous pre-release MTV Video Music Awards performance of "Gimme More" that nearly sank her career. It said so much about how dependent she's always been on studio trickery.
She's since reversed her fortune and resuscitated her image in true throwback style: "Hold It Against Me," the No. 1 single from her seventh and current album, Femme Fatale, and "I Wanna Go," her most recent Top 10 hit, sound like they could have been on …Baby One More Time, her 1999 debut. Both were co-produced by Max Martin, the man behind her very first hit. There's nothing wrong with spending the bulk of one's career under the tutelage of a producer, but no one will ever confuse Max Martin with George Martin, the legend who guided The Beatles through a near-decade of tremendous artistic growth.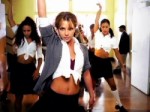 In 1999, Britney was playing the part of Lolita-lite and doing it convincingly. Now she wants to be a femme fatale, but she can't quite pull it off. Why? To borrow from the title of one of her 2002 singles, musically, she's still a girl, not yet a woman.
The time has come for Britney to dig deeper lyrically"or at least hire songwriters who will do it for her. It's not enough to sing about the trials and tribulations of celebrity and how the press is out to get her (which she did most satisfyingly on the Blackout single "Piece of Me"). Justin Bieber and Miley Cyrus could do that in their sleep, and Britney has more than a decade on both of them.
Consider her peers like Beyoncé and Pink, who, unlike Britney, are completely different artists than they were when they started out. Christina Aguilera's position of power in the pop marketplace has dwindled, but she's hardly the same girl who sang "Genie in the Bottle." Even Rihanna has evolved more in six years than Britney has in thirteen.
I'd like to hear Britney finally address some of the personal things she's been through. She's become a mother of two, been hauled off to a psych ward, gotten married to the wrong guys and gone through a very messy and very public divorce and custody battle, which she lost. Country singers would kill for that kind of life experience to draw from.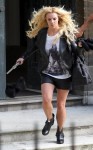 "Criminal," her current Femme Fatale single, is a surprising step in the right direction, with a video that ranks among her best (though she can't help but mar it with shameless product placement), but it's too little too late (the fourth single from the album and its final track). The video suggests that if she were given the chance, she might actually succeed where Madonna, to whom Britney was supposed to be heir apparent until Lady Gaga came along, didn't: in movies.
But first, she needs to exit her comfort zone. It's time to try on classier attire and find some new collaborators. I'd suggest the currently underused Stuart Price, the producer who guided Madonna to her best album, Confessions on a Dance Floor, and has done killer remixes for Depeche Mode, Coldplay and, well, the Killers.
Then she could use her ex Justin Timberlake as a glowing example of how to break those teen-pop chains once and for all. He's earned such solid street and industry cred that we no longer even think of him first and foremost as a former boy bander. He's now a well-respected man, a top-notch recording artist and a movie star. Britney may not have the raw talent of Justin, but it's time for her to take what she does have and try to cultivate it into something worthy of a grown woman entering a brand new decade.