Sound And Vision: Foster the People's Chart Challenge — Is There Life After "Pumped Up Kicks"?
Foster the People just might be the pop anomaly of 2011.
The trio of Los Angeles-based twentysomethings led by founder and namesake Mark Foster looks like a boy band (only cuter), plays instruments like rockers and produces music with beats that thump as hard as any backing up those fierce divas currently ruling every dance floor in clubland. And then there's FTP's breakthrough single, an insanely catchy song called "Pumped Up Kicks" about cool shoes and a youth with homicidal tendencies.
I mean, really?
Even more surprising than the song's smash status despite its decidedly un-poppy protagonist"that troubled kid contemplating a shooting spree"is the fact that it's created barely a ripple of controversy throughout its lengthy chart run. Did the clever lyrics fly over the heads of the country's guardians of morality and decency in songwriting? Were we all just too lost in the beat to notice the finger on the trigger?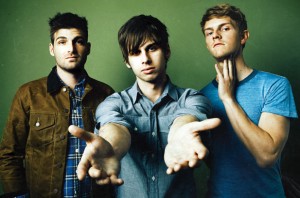 Or perhaps for the first time since the second British invasion of the 1980s brought such alternative pop acts as Duran Duran,
Depeche Mode and indie-pop pioneers the Smiths into and around the mainstream, both the masses and the pop-music establishment (radio and retail) are ready to support music that touches on more complex subject matters than "dance music sex romance""to quote a track on pop iconoclast supreme Prince's 1982 album, 1999, one of the records that launched the censorship wars of the early '80s that would hardly raise an eyebrow today.)
But let's not get ahead of ourselves here. Foster the People's chart future remains up in the air, and the odds might be against the band once again luring Top 40 attention spans away from the queens of Billboard's Hot 100, even if only for four minutes. Indie pop, the sub-genre to which FTP proudly belongs"which shares indie rock's lo-fi left-of-center hipster aesthetic, only with a cleaner sound and more emphasis on melody"has yet to catch on in a major way in the mainstream for more than one song per act.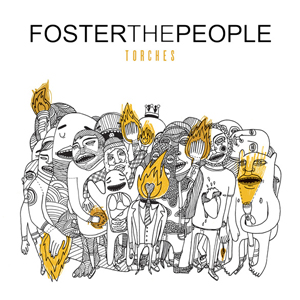 Despite the major success of "Pumped Up Kicks," which spent two months at No. 3 on the Hot 100, FTP's debut album, Torches, hasn't had commensurate success on the album chart, which suggests that fans are reacting to the song more than to the band. (Released in May, Torches is still creeping toward gold certification, for US shipments of 500,000.)
Not that there's a dearth of quality tunes here. Torches is filled with similarly infectious numbers, but the next FTP single, "Call It What You Want," co-produced by Adele collaborator Paul Epworth, lacks the undeniable oomph of "Kicks." I would have gone with the more immediately catchy "Houdini" or "Life on the Nickel," which couldn't have given Katy Perry stiffer competition without being re-recorded as a duet with her.
Of course, when it comes to FTP, patience is a virtue: "Pumped up Kicks," which was used in an episode of Entourage and ranked No. 32 on Australia's triple j radio station's annual Hottest 100 in 2010, took an entire year to take off. The band should maintain some industry momentum with its reworking of "The Edge of Glory" for Lady Gaga's new album, Born This Way: The Remix, which was released internationally on November 18, but a huge breakthrough hit is always tough to follow, especially in indie pop.
The Cardigans had a single US hit in the 1990s (Who can forget "Lovefool"?) before its music got more challenging and sales dwindled. That's one hit more than Ride (my personal favorite from indie pop's early '90s shoegazing movement), Saint Etienne, Belle and Sebastian, Zero 7 and MGMT, a 2010 Best New Artist GRAMMY nominee that remains mostly an underground sensation. Australia's YesYou sounds promising, but so did other Oz buzz bands like Temper Trap, Boy & Bear and Angus & Julia Stone, none of whom have taken off in the US.
Other cutting-edge pop acts have had trouble scoring second hits in recent years. Owl City, which went to No. 1 with "Fireflies" in 2009, is already looking like a one-hit wonder. Ditto the Ting Tings, whose "That's Not My Name" made it to No. 39 in 2008. Since the Top 10 success of "Don't Trust Me" in 2009, 3OH!3 have yet to land a follow-up hit that didn't feature Ke$ha or Katy Perry. And M.I.A.'s 2008 flight into the Top 5 with "Paper Planes" didn't open up the charts to more of her challenging blend of electro, hip hop, pop, dub and ragga.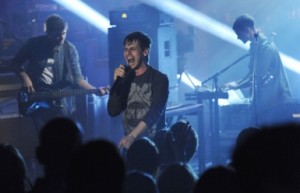 What's a girl to do to get back on the hit list? Collaborate with Madonna on "Give Me All Your Love," the first single from Madonna's upcoming 2012 album, which M.I.A. will reportedly be performing with Madonna and Nicki Minaj at the Super Bowl. I'd hate for FTP's future success to depend on Gaga, or someone like Rihanna, currently making waves with Calvin Harris and Coldplay, on whose Xlyo Myloto track "Princess of China" she appears. I'm surprised she didn't snag FTP for her new Talk That Talk album.
Even if "Pumped Up Kicks" ends up being the first and final hurrah for FTP, the future of pop still looks brighter because of it. FTP just scored two GRAMMY nominations (Best Duo/Group Pop Performance for the single and Best Alternative Music Album for Torches), and the trio will no doubt continue to make challenging yet catchy music. Since they've helped to make the Top 10 safer for guys not named Bruno Mars or ones churning out tacky Eurodisco, maybe there's hope yet that one capital-letter act (MGMT) one day will be booting another (LMFAO) from the tops of the pops.
Now that would be something to party rock about.