Needle In The Haystack: Bella Ruse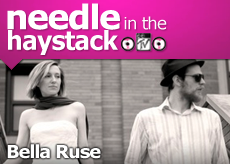 It was only a matter of time before Bella Ruse was scooped up as a Needle In The Haystack artist. Just this past year the folk pop duo has embarked on three national tours, recoded three EPs and released their first full length album. Their live show has impressed onlookers from Seattle to New York and garnered them world wide television and radio play"their song "Push On" even scored them an opening spot in the Lilith 2010 Festival through OurStage's "Lilith Local Talent Search". Their brand-spanking-new album Kuhzoo was funded purely through Kickstarter.com, and if all that's not enough ambition  for you, the band is currently touring in a van powered by vegetable oil.
Check out the video below to learn even more about Bella Ruse, and tune in all week for free downloads, interviews and more.
R.I.Y.L. Beirut, Cat Power, Blind Pilot