Q&A With Dropkick Murphys

Bagpipes, accordion and tin whistle aren't usually part of the formula for success in a rock band, but Boston's Dropkick Murphys managed to build a considerable following by infusing their unique Celt-punk with traditional Irish elements. And after Shipping Up to Boston was featured in Martin Scorcese's Academy Award-winning film The Departed, the Murphys and their offbeat rock became a household name. Not that the sudden attention went to their heads" the dynamic rockers continually put out albums filled with insanely catchy, hard-hitting anthems and melodic ballads perfect for tavern sing-a-longs.
As the band gears up for the release of their seventh studio album Going Out in Style and prepares for a two-month tour of the US and Europe, OurStage got a chance to sit down with guitarist/vocalist/accordionist Tim Brennan to get the lowdown on the new album, their post-Shipping Up to Boston success and what it's like to play with Springsteen.
OS: First things first: how exactly does one get into the accordion?
TB: As a kid, I had always heard Irish music being played. My mom would listen to it, my grandparents listened to it. I liked it, but when I was a kid I just wanted to buy Springsteen records, and stuff like that. But when I was probably fifteen or so, I got really into The Pogues, and from there I started re-listening to a lot of Irish stuff that I had heard when I was a kid. I just wanted to be able to play along, so I initially got a tin whistle and taught myself how to play along with that. Actually, an English teacher at my school taught me how to play, and he actually introduced me to Dropkick Murphys. When Do or Die came out he brought it into school and was like, Check this out, you'd like it. He got me into The Pogues and stuff. So I started playing along to the songs with the tin whistle and then one day I was like, I wish I could play the accordion like this dude plays the accordion. I didn't really have the means of getting an accordion, but I was in a band with this kid whose father was a musician, and down in his basement he had an accordion that had just been sitting there the whole time. It didn't seem as though anybody was really using it, so I asked him one day at practice, Can I borrow that to try and teach myself how to play it? And he said, Sure, so I took the thing home, and much to my parents' chagrin I started playing along with Pogues songs and The Chieftans and stuff up in my bedroom.
OS: It's funny, you don't usually hear about people just picking up the accordion.
TB: Yeah, I feel like the accordion is the kind of instrument that gets thrust upon somebody when they're a kid, and their parents make them take accordion lessons. Luckily, I was interested in it just from listening to The Pogues so much, and I just wanted to be able to play along to the stuff. I think I probably picked it up for different reasons than your average accordion player.
OS: Can you tell me about Going Out In Style? It's a concept album, right?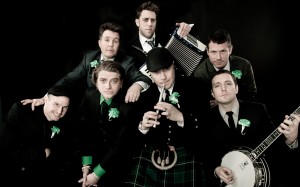 TB: Well, sort of. It's loosely based on the story of this guy, and the songs sort of all tie in together. We didn't write it with the intent of it being a concept album by any means, but as things were unfolding lyrically there was definitely a common thread running throughout the songs. We just sort of pieced it together in a way. Initially, we were going to come up with a mock obituary of a guy and include it in the liner notes. But then Michael McDonald"he sort of took it and just ran with it a little bit more. When we were writing it definitely wasn't our intention, but you know, whatever happens, happens.
OS: You also got to work with Bruce Springsteen on the track Peg o' My Heart" how was that experience?
TB: He did it at his studio in New Jersey, so we didn't get to sit there with him while he was singing, unfortunately. But we sort of threw it out there to each other like, Hey, what if we try to get Springsteen to sing on this song? And the fact that it happened is just unbelievable.
OS: Didn't you propose to your wife at a Springsteen show?
TB: I did, yeah. I proposed to her onstage at a Springsteen show in Boston. We had met him"he came to one of our shows in New York with his son, Evan. He came backstage and hung out with us for a little bit, and then he invited us to come see him in Boston and invited us to play a couple songs with him. A couple months earlier at practice, just in jest, I had said" because he was playing two nights and I wasn't going to be able to go to the first one but Ken, our bass player, was going to the first one " Hey, when you talk to him, ask him if I can propose to Diana. [Laughs] Literally, it was more of a joke than anything. Nothing was ever said about it again. And then a couple months later, when Springsteen came to town, Ken called me at about midnight after the first show, and he said, He wants us to play with him tomorrow, and he said it's cool if you propose onstage. So that was quite the event.
OS: Do you guys feel pressured to top the success of Shipping Up to Boston when you put out new material?
TB: No, not really. We just sort of kept writing the way we normally do, and it just so happens that Shipping Up to Boston and songs like that are just the kind of songs that we write. I'm hoping that anybody who became a fan through the Shipping Up to Boston thing can buy this album and still like the material as much as they like that song. But we certainly didn't go in saying, you know, We've gotta make something more popular than ˜Shipping Up to Boston.' We didn't necessarily try to chase that sound or anything, that's just sort of what we sound like. So we just went in and did our thing. I think new fans" people who heard about us through Shipping Up to Boston or The Departed or whatever" hopefully those new fans will like the new album as much. As well as the old fans, of course.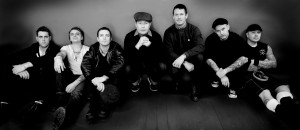 OS: It's funny that you mention new fans, because I've heard a lot of people say I wish there were more punks at Dropkick shows! There are all these bros now!
TB: Yeah, well, as something"whether it's a song, or a band's record, or whatever, as it becomes more… [pauses] I mean, we're not mainstream by any means, but when there's a song like Shipping Up to Boston that is able to reach a wider audience than we would normally have as a general fan-base, that's always going to bring some new people into the mix. And it's going to be people that don't know about us because they're music fans, but because they heard the song in a movie, or a sports game or something.
OS: So you're cool with the changing demographic of Murphys fans?
TB: Oh, yeah! It's perfectly fine with us. We've never compromised our sound to become a mainstream band, by any means. The fact that we have more quote-unquote mainstream fans speaks for The Departed and Red Sox and Bruins and stuff like that. But that's cool with us.
OS: The new album's called Going Out In Style, but that doesn't mean you guys are planning your exit from the scene or anything, does it?
TB: Well, we'll see how many people buy the record. [Laughs] No, that title was taken from a song I called Going Out in Style, and it's about a guy's wake. So that's more about leaving the world in style, more than our band going out in style.
OS: You also have your annual St. Patty's dates in Boston coming up. Are the Boston shows usually crazier than your other shows throughout the year?
TB: We're lucky in that those shows could be any night, pretty much. But for us, at least, there's definitely a different feeling to those shows. All our friends and family come out, and it's rare that we play in Boston these days. Before you go on stage it's definitely a little bit of a different thing. Sometimes, maybe on the first night, there's a little bit more anticipation. You've got people chanting for you to come on and stuff, because it's a hometown crowd. But we love doing them. Last year we did seven shows in six days, so it's definitely taxing, but well worth it.
(Ed. Note: Brennan elaborated on the St. Patty's shows in an interview with OurStage last March)
OS: What else is going on for you guys this year?
TB: We hit the road a little bit more than a week before the album comes out. Then that comes out on March 1, and from there we'll just be everywhere. We're back at it. We're definitely looking forward to it. The last time we were in Germany, they were like, You guys are great, but you can not come back here until you're on tour again. [Laughs] It's been four years or whatever since the last album, and we've been back to Europe, you know, how many times. So this time they're like, We're glad to have you guys, but please, give us something we can use. So we'll go back there, and we'll do the states and stuff. We're definitely looking forward to it.
You can get your celt-rock fix with Going Out in Style (out today!), and be sure to catch the Murphys in concert when they roll through your town.