OurStage Artists Invade SXSW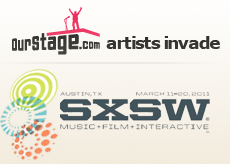 In just a few short days the South By Southwest Music and Film Interactive Conference and Festival will be kicking off, and while, for us, this signifies the launch of festival season (whooopiiieeee) it also marks some very exciting milestones for independent artists everywhere. SXSW showcases hundreds upon hundreds of artists every year, and has become a worthy credential in the careers of both established and up-and-coming artists. If you're heading down to Austin next week, be sure to show some love to the many OurStage acts that will be performing, many of which have been featured on the OurStage Magazine in the last year. Gosh, we just can't get over our taste-making skills.
Thursday March 17th
Geographer – Indie rock drenched in reverb, electronics and introspection, Geographer should have no trouble fitting into the SXSW scene. Read about them here and check out their 8pm set at Maggie Mae's Rooftop.
Andrew Belle – OurStage hearthrob Andrew Belle's debut full-length album The Ladder was released last year to critical acclaim and has been featured on the OurStage Magazine and Best Of charts for months. Catch him at 10pm at The Tap Room At Six.
Or, The Whale – We could tell you about how Or, The Whale has been on OurStage practically since the beginning, or how they gracefully incorporate seven instruments and four vocalists into one seamless act. But we think we'll just let this OurStage Magazine profile, and this Daily Download post and this winner profile do the talking for us. Don't miss them at 10pm at the Soho Lounge, right before Eilen Jewell.
Muck and the Mires – Nothing like a little Boston garage rock to cleanse the SXSW palate. Catch them hot off the trails of headlining the Dirty Water Festival in London at Skinny's Ballroom at 10:15pm.
Eilen Jewell – Eilen Jewell is quickly becoming a hot name in the country world. Read her feature on the OurStage Magazine and catch her on the charts, the folk rankings love her! Playing at 11pm at the Soho Lounge.
The Plastics Revolution -The inaugural act for OurStage and MTV Music's joint partnership Needle In The Haystack, The Plastics Revolution have been bringing powerpop to Mexico City in waves and will soon cross the border to rock the late night crowd at Mi Casa Cantina at midnight.
Friday March 18th
Jesse Thomas – Jesse has racked up more Top 10 wins than the average SXSW goer's Foursquare check-ins. She's been featured in OurStage playlists for rock and folk, and her raw, smokey voice and take no prisoners 'tude even scored her a spot playing side stage to John Mayer in this past summer's John Mayer "Side Stage Warfare" Competition. Don't miss her kick ass at 7:30pm at The Ale House.
Lady Lamb the Beekeeper – The effervescent Lady Lamb has been an OurStage fav for a while now, having been chosen as another Needle In The Haystack artist and featured on the OurStage Magazine for her killer touring style and as an Editor Pick for 2010. She even graced us with her presence and rocked the room at OurStage's first In The Round session at the end of February. See what everyone's buzzing about at 8pm at Swan Dive.
Blacklisted Individuals – This hip hop duo doesn't have to travel far to bring their "Working Class Muzik" to SXSW, being born and raised right in Austin. Check out the former OurStage and MTV Music Needle In The Haystack act at 9pm at The Marq.
RAS (Riders Against the Storm) – This husband and wife hip hop duo is both adorable and talented, winning the Lennon Award in the hip hop category in 2008's John Lennon Songwriting Competition as well as being a finalist in OurStage's "Get Out Of The Garage" Competition with Converse. Experience the magic at 9:30pm at The Marq.
Other Lives – Another OurStage artist that we've been gabbing about since the beginning, scored a free logo design from Alphabet Arm back in 2009. Other Lives cites lofty influences such as Jóhann Jóhannsson and Arvo Pí¤rt, but you're more likely to hear Beatles and Rufus Wainwright in the execution, which is a sweeter deal in the end. Learn more in their artist feature on the OurStage Mag, where our Editor in Chief also cited them as an playlist pick. Catch them live at 10pm at Maggie Mae's Rooftop.
Saturday, March 19th
Lelia Broussard – Listen up, people, because Lelia is making some serious waves. Not only is she a contender for Rolling Stone's Choose The Cover Competition, but the OurStage community loves her rollicking folk rock (as evidenced by her multiple Top 10 wins) and her hilarious videos that are quickly making her a YouTube sensation. Read more on the OurStage Magazine when we profiled her last year, and be sure to check out her set at The Tap Room at Six at 10:45pm, so you can say you saw her when.