Rapper's Delight: East Coast West Coast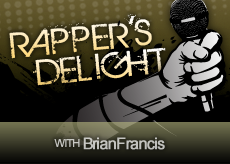 The '90s coastal hip hop feud has been talked about, debated and over analyzed since, well, the '90s. People are fascinated by the relationship between Biggie and Tupac, between Bad Boy Records and Death Row Records and of course the music that spawned from the disjuncture. In fact, you're probably tired of hearing about it. So, here's a (hypothetical) feud that you haven't heard about: the riff between East Coast and West Coast rappers on OurStage! Let's take a look at some of the players in this epic struggle for hip hop dominance.
You can't have a conversation about East Coast hip hop on OurStage without talking about Overdose, aka "theofficialod." This revolutionary emcee is redefining NYC rap and taking OurStage by storm at the same time. Sure he's got a handful of badges for Top 40, Top 10 and even won the Alt. Hip Hop Channel, but earlier this year he was also crowned first place in our Best of Urban charts"three weeks in a row. Outside of OurStage, Overdose earned himself a feature on Nick Cannon Presents…America's Wildstyle Champs and was a two-time finalist on Loud.com. Check out his track "Stepping Stone" below"after all, music does speak louder than words.
Born in Harlem and raised in the Bronx, Tribeca is another true New York talent. Not just by birthright, either"he's toured with East Coast legends Fat Joe, Gang Starr and the Wu Tang Clan. Before he started rapping, however, he made a name for himself in the studio producing for other Bronx locals like Camp Lo and KRS-1. This guy's done it all. I mean, he wrote the theme song to ESPN's "The Life," wrote a novel called Party and Bullshit and even body-doubled as Biggie for VIBE Magazine and VH1. Some other East Coasters you need to hear include Dom P MFD, Jae Apollo and Yonas.
This is only half the story though; we still need to take a look at their West Coast counterparts. Dylan Synclaire, for example, although born in Missouri, spent most of his life in Washington state. When given the choice of college or a music career after high school, the independent eighteen year old chose to follow his passion and started to write and perform locally. After making a name for himself in Kent, WA, Synclaire took the plunge and drove down to LA to test his mettle. Within a year, he signed a deal with Westlake Recording Services and worked with the engineer/producer for Salt-N-Pepa: Al Machera. Since then, he's evolved into the uniquely polished but still raw artist he is today.
Also on the West Coast roster is the LA-born Element. Element is the perfect illustration of a natural-born rapper. The son of an R&B singer, Element was exposed to music and encouraged to dabble at a young age. This, coupled with severe domestic issues, caused him to fuse his interest in reading and poetry with writing music and free styling. In the last ten years, Element has taken his God- given talents to the next level. Don't believe us? Give "Mic 2 Tha Thrizzoat" a listen on the playlist below.
Last, but hardly least, we should mention a California girl named Sibley. This hellraiser took LA by storm in 2005 and hasn't relented since. She's made a cameo in an Usher video, been all over the radio and eventually earned the chance to work with all-star producers Marc Kinchen, Brian Kennedy and Kadis & Sean. Other West Coast honorable mentions include Kadeve, Reyn, OddiO and J. Vic.