Just over twenty years as a band and coming up on eleven studio albums, Opeth have almost guaranteed their spot in the metal hall of fame given the legendary status of many of their albums. Though formed in the fall of 1990, the band's lineup wasn't really solidified until a couple years later. Opeth's musical style has mostly been the brainchild of Mikael í…kerfeldt, the only constant member of the band appearing on every Opeth release. As members have shifted, so has the band's sound (even if it's been a subtle change). At this point, you'd probably be hard-pressed to find a metalhead who wouldn't bestow the progressive death metal crown atop Opeth's head.
Perhaps the most remarkable thing about Opeth is their consistently great releases and continually evolving sound. Unlike many metal bands, Opeth don't really have an album that is uniformly respected and beloved above their other albums (for example, Slayer's Reign In Blood or Judas Priest's Painkiller). When asking Twitter at large to name their two favorite Opeth albums, the first four tweets mentioned six different albums (Blackwater Park, Ghost Reveries, Still Life, Damnation, Watershed and Morningrise)"a testament to this notion of slight style changes and a fantastic catalog. Still need more proof? Well, on MetalStorm.net, Opeth has seven albums in the site's "Top 200 albums of all time" list, which is no small feat, with all of their albums receiving above an average score of 8.5, as rated by users of the site.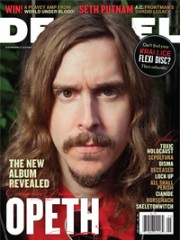 Back in 2003 Opeth released Damnation, which was a rather bold move by the band. Damnation, as an album, isn't metal in any way. It's not just acoustic rehashes of old material, either. It was totally new, non-metal songs. Perhaps Opeth fans are just a different breed, but for most highly-revered metal bands, major deviation from the path doesn't really go all that well (just ask Morbid Angel). Damnation, however, was incredibly well-received by the (usually close-minded) metal community, and rightfully so"it's a masterfully done album.
Opeth's next album, Heritage (slated for a September release) has been described by í…kerfeldt as a departure from the band's usual progressive death sound (somewhat like Damnation was). Heritage features zero death metal parts. "I guess it will raise a few eyebrows and it certainly is an acquired taste…It's different from the stuff we've done before" said í…kerfeldt, which leads us to believe that it's also a departure from Damnation, which also featured no death metal sections. Either way, we're pretty sure it's going to be fantastic. Opeth haven't let us down yet!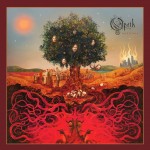 This fall Opeth will be touring the US with Katatonia"the most excellent tour this fall since it allows for two fantastic bands to play really long sets"to support their upcoming album. There's also a chance that there will be a bonus Bloodbath set at any of the shows, since that band is entirely comprised of members from Opeth and Katatonia"what a treat that would be! Be sure to pickup the new Opeth album when it drops in September via Roadrunner Records, and catch them on tour if you get the chance.
Check out "The Devil's Orchard" (the first single from Heritage) below: