Your Country's Right Here: Drive-By Truckers Plan to Rest but Won't Stop

The Drive-by Truckers' chief trucker, Patterson Hood, wants you to discount all of the rumors that the Truckers' have hit  the end of the road.
Yes, Hood and some of his band mates are involved in a host of other projects"for Hood that includes an international music project called Taxi Cab Verses and an upcoming solo record"but the Truckers' still have plenty of miles to go before they even think about calling it quits. The band has toured so heavily in the past few years that they have decided to take a temporary hiatus starting a bit later this year, he said.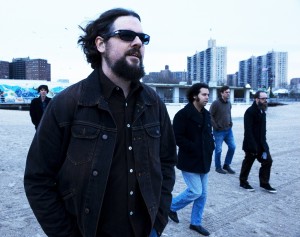 "It's not true," said Hood when asked of the break up rumors, noting that the group has concerts scheduled right through February. "We have a few fun things to do that aren't Trucker related…This will break will be good for everybody [in the band]"
It's tough to begrudge Hood and his band mates that time. Since he and college buddy Mike Cooley formed the precursor to the Truckers back in 1985, the band has been almost constantly on the road touring and playing high-profile events such as Farm Aid.
And anyone who has ever seen a Truckers show knows that this is one band that doesn't know how to mail it in. The concerts are always two-hour plus, hard rocking, heat filled, sweat dripping off the brow, happily frenetic dance fests. Little wonder the Truckers' batteries need a bit of recharging.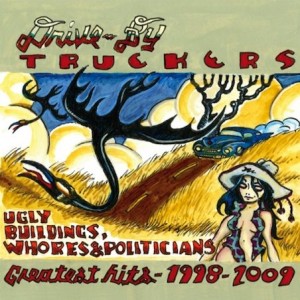 One listen to the band's recently released career retrospective Ugly Buildings, Whores & Politicians: Greatest Hits 1998-2009 and you have a great reminder of why the band is so loved. Hood, Cooley and the gang aren't afraid to swerve around musical checkpoints of rock, alt-country, southern rock and even soul as evidenced by songs ranging from "Carl Perkins Cadillac" to "The Righteous Path." As other critics have noted, what truly sets the band apart is their respect for the everyday man, the heart of many of their songs.
In talking about the band a few years ago, Hood made a comment that arguably sums up the band's current mindset:  "We have never set out to please anyone but ourselves. As long as we're happy with what we're doing, that's what counts. We find the more we please ourselves, the more people like our music."
Fair enough. As we keep enjoy projects by Hood and his band mates, we look forward to more great Truckers' tunes ahead.
Find out more about the Drive-by Truckers on their Web site.