Soundcheck: Grammy Rap-Up: Whitney, Nicki, and Adele

This year's usual GRAMMY festivities were obviously overshadowed by the shocking passing of Whitney Houston. Unable to ignore the noticeably solemn sense in the room, LL Cool J opened the night with a heartfelt prayer for the fallen superstar, saying, We've had a death in our family.
Adele took home the first televised award of the night for Best Pop Performance for her smash hit,Someone Like You.  Later in the night, she gave a jaw-dropping performance of her hit, Rolling In The Deep just weeks after having surgery on her vocal chords.   She went on to win all six awards she was nominated for, including Album Of The Year. Other big winners were The Foo Fighters who nabbed four trophies.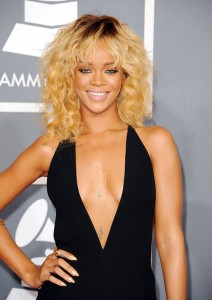 Although the performances are usually the highlight of the evening, this year's showings seemed to be miss their usual spark. Bruno Mars performed in his usual 50's du-wop style, with a big bag of new dance moves and the same old-school costumes.  Alicia Keys and Bonnie Rait paid tribute to the legendary Etta James with a duet of her song, Sunday Kind Of Love, after also acknowledging their love of Whitney. Chris Brown graced the GRAMMY stage for the first time since the 2009 incident, after Clive's Davis' annual dinner, that left Rihanna bruised and bloodied.  Dressed in all white, he performed Beautiful People and showcased his signature dance skills by climbing up an elaborate stage set complete with lasers and back-flipping back-up dancers.
Rihanna performed a slowed down version of We Found Love in a sexy skin-tight outfit andbleached blonde hair and black lipstick. .  The laser-filled set featured dozens of dancers storming that stage and creating a club right inside the GRAMMYs. She quickly switched gears and joined Chris Martin for their hit, Coulda Been before Coldplay closed their set with their hit, Paradise.
In one of the night's most touching moments, Jennifer Hudson gave a powerful tribute to her idol with a performance of Whitney Houston's hit I Will Always Love You to a tearful crowd.  She ended by saying, Whitney, we'll always love you.
Fergie and Marc Anthony presented and accepted the award for Best Rap Performance to Kanye West and Jay-Z for Otis.  Jay-Z and Beyoncé's four collective nominations weren't enough to pull them away from baby ˜Blue', as neither of the new parents were present.  Hova nabbed only one of his two nominations of the night and Beyoncé nabbed none.  Kanye West was also a no-show for the night, even though he finally got his GRAMMY glitz; winning four awards out of his seven nominations including Best Rap Song for All Of The Lights and Best Rap Album for My Beautiful Dark Twisted Fantasy.
Common and Taraji Henson saluted the late Gill Scot-Heron, calling him a great poet and saying, Thanks to him, the revolution is now being televised. They presented the award for Best R&B Album to Chris Brown for F.A.M.E., leading the ever-remorseful and famously-flustered crooner to deliver a kind of uncomfortable acceptance speech.   I don't know what to say. I'm nervous, he admitted before quickly thanking his camp and fans and hurrying off the stage.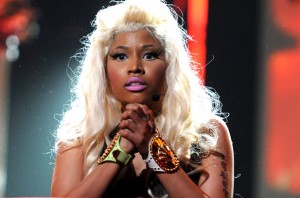 After spending half the night in her seat holding hands with friend, Nicki Minaj, Taylor Swift performed her single, Mean with a banjo in hand and an elaborate down-home stage set.
Drake was proud to introduce his friend and label mate, Nicki Minaj, calling her one of the most intelligent, beautiful, driven women I've ever met in my life. He said, She went from sleeping in the bunk under mine on the tour bus, and now she's one of the biggest stars in the world.  After kicking off her extremely theatrical performance from a set in the crowd, she segued into a pre-recorded mini-movie called The Exorcism of Roman, an elaborate introduction to her most vicious alter ego. Then, she hit the stage for a spectacle of a show that featured her stellar rhyming skills as well as her certifiable singing and over the top acting abilities. While I have a feeling her set may have gone over some fans' heads; no one can deny the guts and the gifts she displayed on the GRAMMY stage.