Bye Bye Baby Bye Bye: The Monkees' Davy Jones, 1945-2012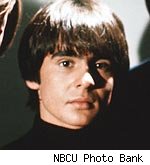 Sad day for Monkees' fans – TMZ reports that singer Davy Jones has passed away from a heart attack today at age 66. He is survived by his wife Jessica and his four daughters.
The Monkees formed in 1965 when producers Bob Rafelson and Bert Schneider, inspired by The Beatles' A Hard Day's Night, decided to launch a TV series about a rock band. They cast Jones along with Mickey Dolenz, Peter Tork, and Mike Nesmith to "play" the band, which was presented as a real group. The Monkees took a lot of heat for not writing or, for the most part, recording the music, but Jones and Dolenz were always the lead vocalists, even when the music had been created by session musicians.
Jones' part in the appeal of the band was huge. His Brit accent, good looks, comic timing, self-deprecation, and his cool and affable demeanor appealed to all ages, and was a constant even after the group split in 1970. Jones went on to other projects, including memorable TV and film appearances. Both with and without the other members of The Monkees, he created some timeless pop songs, and his voice will never be forgotten. He was a great entertainer.
A classic:
From February 18, 2012. Joking about Axl Rose stealing his moves from the video above: