Sound and Vision: Can Taylor Swift Do Joni Mitchell Justice?
Taylor Swift has yet to top Billboard's Hot 100, but who needs a No. 1 pop single when you've sold more than 20 million albums (as of March of 2011), been named Entertainer of the Year twice in a row by the Academy of Country Music (in 2011 and 2012), been awarded the 2010 Hal David Starlight Award by the Songwriters Hall of Fame (an honor previously bestowed upon John Mayer and Alicia Keys) and won an Album of the Year GRAMMY (in 2010, for Fearless, her second album)? She makes every princess of pop this side of Adele seem like an underachiever.
At the age of twenty-two, Swift has accomplished what it takes some icons entire careers and then some to achieve. (Neither Bruce Springsteen, nor the Rolling Stones, nor Aretha Franklin, nor Madonna, nor Eminem, has yet to win an Album of the Year GRAMMY.) But it's Swift's latest honor, being the frontrunner for the role of Joni Mitchell in the upcoming film Girls Like Us, a biopic based on Sheila Weller's book about the lives of Mitchell, Carly Simon and Carole King in the late '60s, that has her detractors"and some fans even"protesting "Too soon!" and wondering "Who? Her?"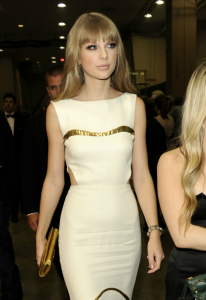 The answer to the latter might seem fairly apparent at a glance. Swift is a huge star with seemingly built-in box-office potential. It wouldn't be her first film role"she appeared in the 2010 romantic comedy Valentine's Day"and she's had plenty of practice lip syncing while emoting in her music videos. (Presumably, she'd be singing Mitchell's songs, not mouthing them, in Girls Like Us.)
Then there is her music. Like Mitchell, Swift is an instrumentalist who writes her own material, and some would say, is a leading voice of her generation. But let's face it, "You Belong with Me" is no "Big Yellow Taxi," and judging from the musical evidence she's provided thus far, vocally, there's no way Swift would be able to hold a candle to Mitchell, or hold those high notes at all, if she attempted to tackle "Help Me," Mitchell's biggest pop hit.
Did the 2010 GRAMMY Awards teach us nothing? That was the one where Swift drew loud criticism for butchering "Rihannon" when performing it on the telecast with Stevie Nicks. Of course, performing onstage with Nicks would be a daunting task for any twenty year old, but portraying as singular an icon as Mitchell would be even more of one for any seasoned actress or singer of any age.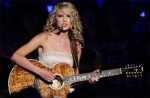 There's always the chance that Swift could pull an unexpected Diana Ross, who, against all odds, scored an Oscar nomination for embodying Billie Holiday in the 1972 film Lady Sings the Blues, despite bearing not a hint of a resemblance vocally or physically to Lady Day and being best known for fronting the Supremes, whose string of '60s Motown hits couldn't be farther from the blues.
The question of whether Swift can pull off Mitchell highlights a larger issue in Swift's career, one of where she fits in beyond the contemporary music scene. Would anyone wonder if Adele was qualified to play, say, Dusty Springfield in a movie"or to perform the theme for a James Bond movie, an even greater honor than being cast in it and one Adele will have this fall when Skyfall is released? For Swift, The Hunger Games soundtrack will have to do.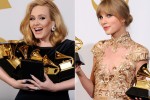 After two albums, Adele's legacy is all but guaranteed. She's only a year and a half older than Swift, and both have famously written songs aimed at loves lost, yet Adele and her music read so much older than Swift. Adele has the respect of fans, of the industry, of her peers, of her predecessors, and she's often mentioned in the same breath as legends like Springfield. Swift, meanwhile, is mostly a sign of the times (when light breathy pop rules"see the success of Carly Rae Jepsen), and when her time has passed, will her influence too?
The good news? If she fails to do Mitchell justice, she can always return to her day job and continue to rack up GRAMMY Awards (her career haul so far: 6), if not Oscar nominations. And for the foreseeable future, she'll likely go on selling millions of albums on every try, which, come to think of it, is one thing Mitchell never really managed to do.