Donna Summer Dead At 63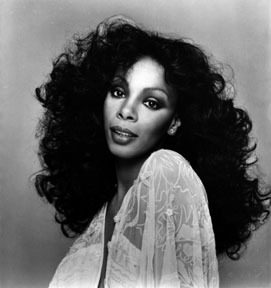 TMZ reports that the Queen of Disco passed away this morning in after a long battle with cancer. She was in Florida at the time of her death.
Donna Summer, born LaDonna Adrian Gaines, defined the disco movement of the 1970s and 80s  with hits like "Last Dance," "Hot Stuff," "Bad Girls," "She Works Hard for the Money" and "This Time I Know It's for Real."
Her infectious smile and effortless vocal delivery brought a sense of pure joy and happiness to the music industry that has been unrivaled since. Her pop craft combined with an inherent  sense of rhythm and funk allowed Summer to reach a wide variety of audiences, with a style of dance music that was more accessible to the mainstream than anything to come before it. And it appears we've lost another star too soon, as Summer was reported to have been working on a new album at the time of her passing. So in the spirit of disco, one final dance for the Queen.