Matchbox Twenty Return With New Album 'North'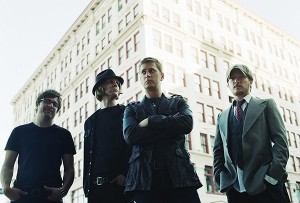 As the wave of 90s nostalgia seems to be reaching an all time high, Rob Thomas and Co. return with North, their first LP since 2002's More Than You Think You Are.
While the band has not been completely dormant over the past decade, this will mark their first full length studio effort after releasing the 2007 compilation Exile on Mainstream (a collection of previous hits featuring six new songs).
"The title refers to us finding our way," guitarist Paul Doucette tells Rolling Stone. "We went into this record with a lot of material. Many different songs that could have taken us in many different directions. It sort of overwhelmed us for a bit. But, at a certain point, we figured it out. We figured out where 'North' was."
The album is due out September 4th, but fans can expect the first single in a few weeks.
IT'S OFFICIAL!! @MatchboxTwenty new album title is NORTH. comes out sept. 4th! first single SHE'S SO MEAN to come in the next couple weeks!

" Rob Thomas (@ThisIsRobThomas) May 17, 2012