Are DJs Buying Facebook Fans?
When dance-music-titan Mixmag posted a story last night that supposedly outed many of the worlds top DJs for buying Facebook fans, they legitimized what was originally an ill-researched but rapidly spreading internet meme. The user generated picture points out that it is quite strange for David Guetta, Excision, Steve Aoki, Skrillex, Deadmau5, Avicii to be wildly popular in Mexico City and yet according to Mixmag, "at the time of writing, none [of the DJs] have events listed in the area."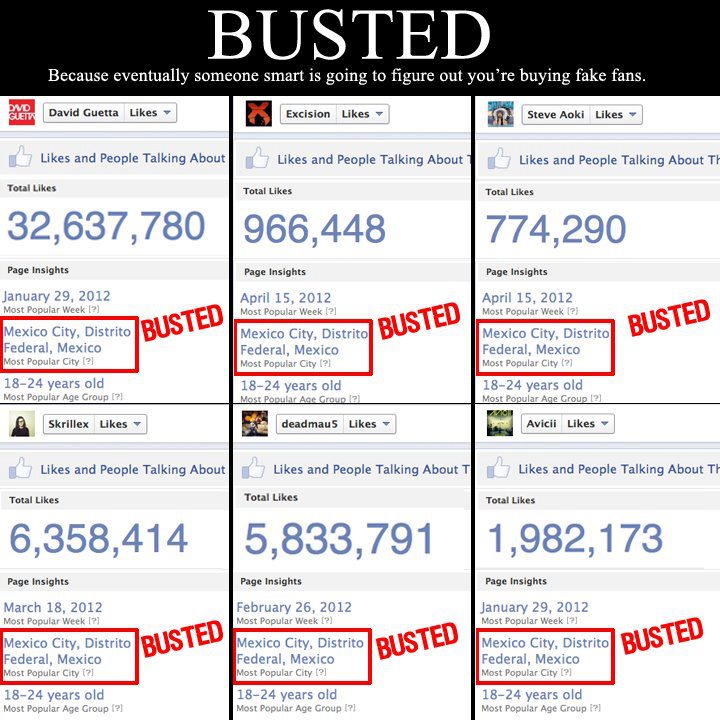 While the stats did seem a little off; fast forward a few hours and Excision has published an open note to his Facebook page in response. We think Excision does a pretty good job of clearing the air, but we'll let you decide for yourself. Read on for his full response to the image and the Mixmag article.
It claims that that myself, Deadmau5, Skrillex, Avicci, Steve Aoki, and David Guetta are all buying fake fans from Mexico. I would like to point out that no, I do not buy fake fans. It's very unlikely that the other artists do either. The first obvious thing that nearly everyone has gotten wrong when analyzing this image is that this statistic is showing you the where the artist has received the most new likes on a given week. This is not an overall fan count rank by city. Even one of the most prominent magazines in EDM managed to miss that. You can clearly see on my page insights: http://i49.tinypic.com/mrcnyf.png Mexico in fact counts for less than 4% of my fan base. Many of you will find it interesting to see regardless, as it's basically a breakdown of where all the core bass music fans in the world are from!
Already this rumor has been proven false, but look at Budapest with all those fans… that doesn't make sense either does it? Excision has never even been to Hungary! That comes down the difference in the economies between America + Mexico/Hungary etc. I've run legit facebook ads that I pay for through Facebook to push my page, my album etc, just like every artist SHOULD be doing. See the names above for people who know how to promote themselves properly, you will also notice they all play huge sold out shows across America, is there a trend here? These ads run on an auction system where you set a maximum bid per click, since other advertisers in Mexico/Hungary are bidding far lower for a click than I am, my ad will always be shown. Does this mean I'm cheating? No, these are real people, genuinely interested in my page, clicking on my ad that was shown to them because they have a friend who already likes my page. It was their choice to click on it and also their choice to click "like", and the majority of them are active on my page. I can show my ad to someone in Mexico/Hungary (and many more countries around the world with lesser economies) for around 30% (or less) of the cost of an ad shown to an American.
It could be argued that these non-American fans have less value, but I believe that fans all over the world are valuable as long as you plan to eventually tour the area some day. You could even argue that paying for facebook advertising to get more fans is cheating, but then you would be arguing with every artist and brand name in history. Mexico City has an extremely fast growing scene, Downlink and Noisia just played there to a huge crowd and the promoters went so far as to spray paint massive buildings and billboards with their names to promote the event. I'm sure Skrillex etc have played even bigger shows there.
I should point out that there IS a problem with certain artists buying fake fans, but these profiles aren't real at all, why would you buy fake profiles of people from Mexico when you can buy fake American fans with triple the value for the same price? It's far harder to catch the actual cheaters than you would think, especially if they are smart about it. But if these same artists were truly smart they would realize there are marketing opportunities available to them that will allow them to increase their fanbase just as fast with REAL fans. Even a massive jump in fan base numbers with no visible cause could be legit as an artist may have just gotten paid for a month of touring and dropped a fair portion of that into facebook ads etc that dramatically increased their growth for only a few days. Yes there are sites all over that will sell you facebook fans, but that is for people who have no chance of building a fanbase on their own. For a decently well known artist it's actually far cheaper to run a legit campaign and get real clicks/real fans through facebook ads.
EDM is growing to a higher level than ever before, it's going global whether you like it or not. Haters are going to hate regardless, but at least do some research for yourself before you jump on the hater train headed to Failsville like a sheep.
-Jeff Excision