Guns N' Roses Ban Slash T-shirts At Concert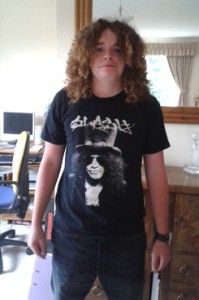 The current line-up of Guns N' Roses will take the stage later tonight at London's O2 Arena, finishing up a string of drama-filled UK tour dates. Just make sure you don't show up in your classic Slash Tee.
NME caught up with a Guns N' Roses fan who attended last nights show at the O2 Arena, shirtless. That's right, when 18-year-old James Revell showed up, ticket-in-hand and shirt-on-back, security requested that he remove the offending shirt or he would not be allowed to attend the concert. NME quotes a venue worker at last night's show as saying, "We were told by the management not to allow anyone into the O2 Arena who is wearing a Slash T-shirt and we are asking anyone who is to remove it and if they refuse they will be turned away."
Wow. We knew Axl's beef with Slash cut pretty deep, just not to the point of enforcing a reverse dress code.
In the words of the surprisingly mature James Revell, "…I think that Axl Rose doesn't appreciate his fans or anyone for that matter, he needs to grow up and stop acting like a child."