Exclusive Q and A: Adam Deitch Talks New Lettuce Album 'Fly', Break Science, and Electronic Music

Celebrating their 20th anniversary as modern day rulers of old school funk, the seven-piece Brooklyn-based juggernaut Lettuce drops their third studio album Fly"a decidedly raging slab of relentless groove, hyper-charged syncopation, and psychedelicized soul anthems. Having blown up stages from coast to coast last year, ranging from The Fillmore in S.F. to Terminal 5 in N.Y.C., Bear Creek Music Festival to Camp Bisco and all points in-between, Lettuce entered Brooklyn recording studio The Bunker this winter with a fresh batch of road-tested material and a revitalized sound honed razor sharp by a year spent on the road.
I got the chance to catch up with drummer and main songwriter Adam Deitch last week to talk about the evolution of the band, and how his newfound place in the electronic music scene has influenced his funk and hip-hop roots. A few months ago, I spoke with Deitch and his Break Science partner Borahm Lee about emerging as live musicians in the EDM scene; what I found was a musician who clearly had immense respect for his funk and jam band beginnings, but was also very excited to work in a new style that presented a challenge. This time around, Deitch was on home court, fresh off a newly recorded Lettuce album (which you can pick up here), and about to embark on a supporting tour.
OS: Last time we talked you were in the midst of a Break Science tour, and now you're gearing up for a string of Lettuce dates. What's it like preparing this time around?
AD: Well the concept for these Lettuce shows is to really get inside our new album Fly and to not only make them a part of the show, but we're going to stretch them out, and find areas in the middle of the songs to really create, almost a song within a song. That's really the focus. So we're preparing arangement wise, how we can really bring the vibe to the next level, on stage and in the crowd.
OS: What was the recording process like for this album?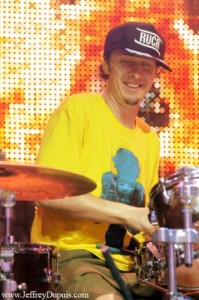 AD: Luckily we've been playing a lot of these tracks at our shows over the past year. I was really inspired  to write an album even though the odds were against us. From finding a budget to do it, and to get everybody in the same place. But I really wanted to hear a new Lettuce record, a post Rage Lettuce record. So we started one by one, just bringing songs in and playing them. And by the time we got to the studio they were semi-engrained but they were still fresh. So it was a perfect time to record, and I really feel like we expanded upon what we did with Rage and got really down with the funk on this one.
OS: I understand this year is your 20th anniversary, where has Lettuce come since then and where are you going?
AD: I really see the whole electro and dubstep scene that's happening, I feel like they love Lettuce too. And with Twitter and Facebook and all that, we can reach a lot more people than just being some word-of-mouth funk band out of New York. Now when we play Camp Bisco, the kids know our songs. They know when to raise their hands at certain points, and all those fun little things that our real fans do. So I'm enjoying watching it grow and we're not doing this for the money, we never have. But I feel like the methods of funk and all the love that we have for each other needs to just expand, exponentially. So that's our goal.
OS: Could you tell us how you got the name Lettuce?
AD: Well we went to basically an all guys school, there was only like three girls there when we went to Berklee School of Music. So we had to party at other colleges, and we were these vagabond, weird-looking musician dudes, sneaking in to these parties at other schools. So we would basically play together all day, music all the time, and every couple nights we would decide we had to get out. So we go to these parties and there would be a band playing, maybe some Phish tunes or like a Dead cover band, just some guys who went to school and played a little guitar. We would just be partying there, and we would ask the band "hey man, would you let us just play one tune?" and I would ask the drummer really nicely, and Coomes would ask their bass player….so it turned into this coordinated sit in, where all of a sudden we're up there and we just start kicking the funk stuff that we were coming up with at the time. Ya know, "come on, let us play a quick one man." And a friend of ours made a Lettuce sticker and just stuck it on my door and declared "You guys are Lettuce". We really just thought it was kind of stupid and funny, and none of us were really into the name…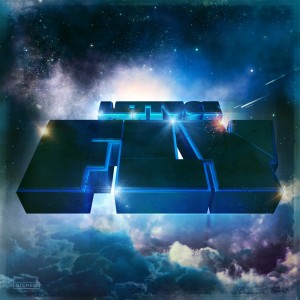 OS: But it just stuck?
AD:Exactly. And it comes from our want to play together. We party together, and we play music together. It's not like we party with other people…it's all in one, we're homies, you know?
OS: Not to be too cliche here, but Lettuce seems like a band that grew from organic roots, just a group of friends trying to play music to get into parties. But most of you guys have spent the bulk of the past 20 years working outside of Lettuce. What is it like to get back together with these guys?
AD: It's this amazing and elating feeling. You miss your boys, your real crew, you know? Coomes is out working with Dr. Dre and everything you hear on the radio with live bass is probably him. Krasno is producing for the London Souls, and I'm doing my best with hip-hop and Break Science and the electronic shit. So everyones doing their thing and working hard, when we see each other we can all revert back to being kids. It's just a great feeling to see those guys.
OS: Fly was all recorded on two-inch analog tape, but your other project Break Science is totally different; you and Borahm do a lot of work with synths and software. Does the recording process influence your musical output at all?
AD: Well I just look at it as two completely different sonic animals, and a lot of the times what we're doing with Break Science is a combination of analog stuff with digital stuff. Where as Lettuce is definitely more of a purely analog band. Sometimes we'll take some Lettuce drum breaks and sample them for Break Science, throw them in a box and mess with them a bit. But that's what Break Science is all about, the combination of analog and digital.
OS: That whole idea of sampling is totally something that comes from hip-hop culture and I know that influence plays a lot into what you do with Break Science, but how does it translate in this Lettuce record?
AD: It's all part of my personality and the way I grew up. I grew up living this dual life, loving live instruments and jazz and funk, but also being completely down with my hip-hop crew. Producing beats all the time, and that whole lifestyle. So I was always jumping back and forth, and I feel whole by having both of these outlets. And I'm still learning in new ways, how I can create a hybrid between funk and the electronic stuff. I feel like guys like Gramatik, and Michael Menert, and Derek from Pretty Lights understand how to combine those elements really well. One day I want to put together a show that's a hybrid of Lettuce and Break Science… LettScience, you know. Break Science with analog horns, just finding a way to meld the two together sonically, that's the next step.
OS: Is that where you want to push your music?
AD: It's definitely something everyone talks about. Coomes and Krasno are definitely into it, it's all melding together. But at the same time, we want to keep Lettuce as pure, analog, funk. Something that people can depend on. You hear a new Lettuce record, it's not going to have a drum machine or loops. It's going to be me playing, mistakes and all.
OS: You talked about your desire to extend these new Lettuce songs live and jam them out, how much of that transfered into the studio?
AD: Well in today's landscape, any Lettuce show that you want you can download online with torrents, and that's where you can hear us stretching songs. But on this album we really wanted to showcase the composition, for instance "Bowler" is not meant to be stretched. It's a beautiful composition by Neal Evans, and the horns are the melody, and when the song is done, it's done. On other songs like "Ghost of Jupiter" or "Fly", you can really expand and get dubby and trippy, it just depends on the song really.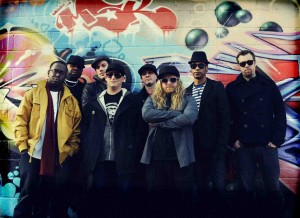 OS: Is there a track from Fly you are most excited to play live?
AD: I really enjoy "Lettsanity" which is the second track on the album. It's just really fun and has this Gap Band '70s feel. And in the middle of the song we go into this new riff section every night which is really up to our bass player, Erick Coomes, to come up with on the spot.
OS: Any final words for your fans?
AD: I just want people to know that we're all hardworking dudes. and we're gonna be here, and they can count on us. I want the kids who only listen to electronic music to check out Lettuce, and be down with us. Because we're giving it to them, and they know I'm going to come with it every night. I'm there to make them dance, that's my goal. People know it's a dance party, and both those bands have similar goals and it's just to really get the party crackin'. We do want to have substance in there too, but we're not trying to prove anything. We're not trying to show that we're virtuosos who can play this really complicated section or anything. We really like to focus on making it feel good and making the grooves feel really good.
Check out Lettuce performing"Madison Square" live: