Sound and Vision: Why Judging a TV Star Search Is More Valuable Than Winning One
The votes were counted and Phillip Phillips was crowned the 11th American Idol on May 23. So what's next?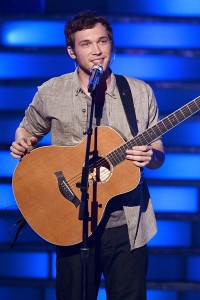 If this is going to be just another case of recent history repeating, a first blush of modest success (his Idol winner's single "Home" entered Billboard's Hot 100 at No. 10, with 278,000 downloads), maybe even a platinum post-Idol album (like his predecessor, Scotty McCreery), then… nothing much. Unlike American Idol's early seasons, which made durable stars out of Kelly Clarkson and Carrie Underwood, taking the grand prize no longer comes with guaranteed gold or platinum (if only for one album).
Even Adam Lambert, Idol's eighth runner-up and the show's lone international star launch in the past several seasons, is in the throes of a sophomore slump. Although Trespassing, his second studio album, released on May 15, entered Billboard's Top 200 album chart at No. 1, it did so with only 77,000 copies sold its first week. That's 120,000 less than his 2009 debut, For Your Entertainment, and the lowest one-week total for a No. 1 album since last August, when Adele's 21 sold 76,000 copies in its 12th non-consecutive week at No. 1.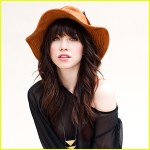 Interestingly, chartwise, the most successful contestants on television star searches in the past three years have come not from Idol and not from The Voice or The X-Factor, neither of which has produced a single hitmaker to date, and all of them were losers. Susan Boyle became a global sensation, with two No. 1 multi-platinum albums (2009's I Dreamed a Dream and 2010's The Gift), after coming in second on Britain's Got Talent in 2009. Jackie Evancho, the 2010 runner-up on America's Got Talent, has had a gold album (2011's Dream With Me) and a platinum EP (2010's O Holy Night) since the show. And Carly Rae Jepsen, who came in third on Canadian Idol in 2007, is currently Top 10 in the U.S. with Call Me Maybe.
Back in the U.S.A., two early Idols are currently the ones with the most bragging rights. But despite the continued success of Carrie Underwood (Idol No. 5), whose fourth album, Blown Away, recently debuted at No. 1 with 267,000 copies sold, and Kelly Clarkson (Idol No. 1), who scored her third No. 1 single earlier this year with "Stronger (What Doesn't Kill You)" and remains a chart contender 10 years on, there's no exposure quite like sitting in the judges' chamber"on any of the shows.
Jennifer Lopez has parlayed her Idol spot into one of the most successful comebacks in recent memory, and now Steven Tyler is using his as a launching pad for Aerosmith's first new album in eight years, Music from Another Dimension, due August 28. Though that's off-Idol season, Tyler's heightened profile, thanks to Idol, on which the band performed during the finale, should ensure a massive return.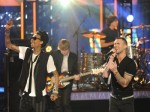 Meanwhile, Adam Levine has used his gig as a judge on The Voice to reposition Maroon 5 as the hottest boy band in pop. Moves Like Jagger and Payphone both benefited from Maroon 5 performances on The Voice and became Maroon 5's first back-to-back Top 10 hits since This Love and She Will Be Loved both went there in 2004. When it's released on June 26, the group's upcoming fourth album, Overexposed, should do considerably better than their last one, Hands All Over, which sold a relatively lackluster 142,000 during its debut week in 2010"nearly 300,000 less than the group's previous effort"and only went platinum after "Moves Like Jagger" became Maroon 5's biggest hit to date.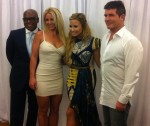 Then there's Britney Spears and Demi Lovato, both of whom will be judges on The X Factor when it returns in the fall. Lovato, always somewhat in Selena Gomez's shadow, finally might have a publicity angle on par with being Justin Bieber's girlfriend. If she plays it right"premiering new videos on the show, working in a performance or two"she could soon be known as something other than the other Latina teen queen, the one who cuts herself.
As for Britney Spears, she's not exactly in need of a breakthrough, or a comeback. But if her reported $15 million a season isn't payment enough, she could use The X Factor to garner the one thing that has eluded her for the past several years: a shot at being even more newsworthy than Lady Gaga. And she won't have to be banned in Indonesia to get there.