Electric Daisy Carnival Shuts Down Due To High Winds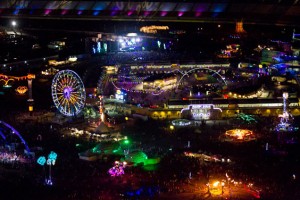 As Las Vegas quickly becomes a centralized location for America's dance music craze, Insomniac Events and their touring Electric Daisy Carnival have taken an unofficial residency as the summer festival ringmasters. Kicking off the yearly festival season, EDC attracts hundreds of thousands of bass-loving, booty-shaking fans to the desert for three nights of dance music, carnival rides, and circus performances.
On Saturday, EDC was forced to shut down early due to wind gusts that threatened the structural integrity of the enormous temporary stages sprawled across the Las Vegas desert.
Insomniac later made this statement on the EDC website:
Insomniac, in consultation with public safety officials, made the decision that due to extremely high wind conditions, the crowd would be cleared away from the stage areas. The decision was made out of an abundance of caution and with fan safety in mind.
Fans inside the festival were allowed to stay until 5:30 a.m. and enjoy music from temporary sound systems located on the infield grass of the stadium.
Earlier tonight, entry of new fans was stopped and inbound traffic is being managed by the Nevada Highway Patrol and the Las Vegas Metropolitan Police Department. As of 1 a.m. there were approximately 90,000 fans that had cleared the turnstiles into the venue.
Insomniac shares our fans' disappointment that weather conditions changed the second night of the Electric Daisy Carnival experience, said Insomniac CEO, Pasquale Rotella. Our top priority has always been fan safety and we expect that Mother Nature will be more cooperative tomorrow as we prepare for an amazing day three.
It is still unclear whether refunds will be issued for those who did not get into the festival, but Insomniac did make the decision to honor any Saturday tickets for entrance to the show on Sunday night (which went off without a hitch).
While we're sure many fans left Vegas disappointed, safety should always come first. Especially for a promotion company whose reputation was already tarnished after the death of a 15-year-old girl during the final Los Angeles-based Electric Daisy Carnival in 2010.