Paris Hilton Attempts To DJ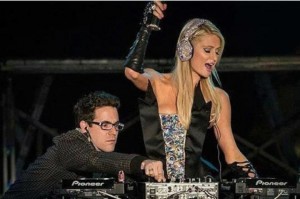 Earlier this month, Paris Hilton made headlines by announcing plans to launch a career as a house music DJ. Saturday night, America's favorite most famous heiress took to the decks at the Pop Music Festival in Sao Paulo, Brazil to play her first-ever DJ set. What resulted was a Top-40-heavy set filled with plenty of arm-flailing and off-beat hip-shaking… but not much mixing.
Hilton seemed to have put more effort into her wardrobe (featuring a pair of bedazzled headphones) than she did practicing for the gig. Approximately 11 seconds into the video, Paris accidentally speeds up the track before catching her mistake and awkwardly playing it off by waving a Brazilian flag. Every DJ can relate to accidentally nudging the most important control on the CD player (which happens to be located on the opposite side of the device as the rest of the controls)… but happening twice in one minute? For shame, Paris.
Perhaps the best point of the night came when Paris attempted to drop her new single "Last Night" (courtesy of producer and ex-boyfriend Afrojack.) It seems as though the plan was to play the song in full, before transitioning to "We Found Love" by Rihanna. Somehow Paris jumbled up her 'Play' buttons and the crowd was treated to an unintentional mash-up. Instead of attempting to fix the mistake, Paris just tossed her diamond-crusted headphones off and sang over the mess. Needless to say, the sound tech had to come on stage and fix her mistake before the all important drop. Really, really good stuff.