Dave Matthews Band Debut Four New Songs From 'Away From The World,' Announce Release Date And Tracklist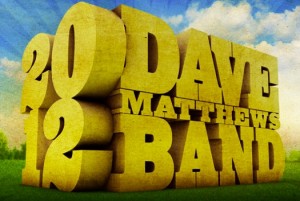 Back in February we covered how Twitter and Facebook had proved that the Dave Matthews Band and Steve Lillywhite were back in the studio for the first time since 2000's failed Lillywhite Sessions. Five months later, Steve Lillywhite continues to engage curious fans through Twitter, and the perennial touring juggernaut that is DMB is back on the road debuting new songs from their upcoming release, which fans can expect September 11th. I got the chance to catch their two-night stand in Hartford, Conn. Also in attendance both nights was none other than super-producer Lillywhite himself. Lillywhite had been teasing fans for weeks about listening to the new album in his rental car, and even Tweeting a picture of the burned disc.
Road trip listening !! twitpic.com/9orwub

" Steve Lillywhite CBE (@Sillywhite) May 24, 2012
Quite the brave move, considering the leak of his last studio effort with the band nearly led to their demise, and a decade long producer/band drought. Nonetheless, Lillywhite grabbed a couple of hardcore DMB fans while leaving the Hartford shows, and invited them to his car to give the album a listen.
Just sat with in @Sillywhite's car and listened to the new #dmb album with @kaciewithak & @ScarltFireDancr. #thankyou twitter.com/coreymanicone/¦

" Corey Manicone (@coreymanicone) May 26, 2012
The DMB fan community erupted with excitement as the news started to trickle out that someone had heard the new album, and suddenly Corey Manicone was a micro-celebrity. Over the next few days he answered as many fan questions about the album as he could remember; most importantly confirming that the new songs being played on the tour up to this point were all on the album. And later confirming the fourth and final new song to be on the album as well.
Read on to watch live performances of the four new album songs debuted thus far, and check out the full tracklist.
"Mercy" originally debuted as a solo Dave Matthews performance on the Late Night with Jimmy Fallon show accompanied by Captain Kirk of The Roots. Since then it has evolved into a slow, dirgy, full-band, blues-tinged cry for help, ending with a rare instrument switch by Dave.
The band treated fans to a free download for the studio cut of "Gaucho" before the tour started. The song features the band at its finest; odd rhythms, funky riffs, a powerful horn section, and a rousing end jam that will only get better as the tour progresses.
"Sweet" debuted last year as a Dave Matthews solo song, but since has matured to include subtle band accompaniment.
And finally, "If Only" marks the only true tour debut from the new album. It continues down the same blues-tinged, laid back vibe of "Mercy" and "Sweet." Featuring signature falsetto vocals and soulful horn lines, it seems to have become the fan favorite.
Overall the tunes seem like a return to an older era of a more relaxed DMB; after spending much of the last decade continually ramping up the energy level from album to album it is refreshing to see them bring things down a notch. For a band that has done very little actual promotion for a new album that should be out in September, they have managed to generate an immense amount of excitement simply through engaging fans, and not being afraid to play unreleased songs in front of an audience. Needless to say, September can't come fast enough!
Away From The World Track List:
Broken Things
Belly Belly
Mercy
Gaucho
Sweet
The Riff
Belly Full
If Only
Rooftop
Snow Outside
Drunken Soldier