Madonna Possibly Facing Lawsuit After Showing Swastika In Concert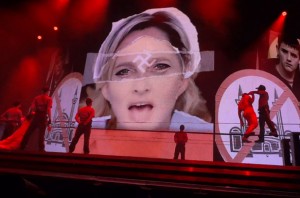 That Madonna. She's certainly trying, isn't she?
At a concert in Paris this past Saturday, a projected screen playing behind the singer flashed an image of far-right politician Marine Le Pen with a swastika imposed over the politican's forehead. If that wasn't enough, the image on the screen then switched over to that of Adolf Hitler's visage partially imposed over that of Madonna's. The video montage included images of famous leaders and other recognizable figures with the face of the "Material Girl" spliced in.
Le Pen, the head of France's Front National (FN) party, was furious at the display and had indicated potential legal action against Madonna after the video montage was played at a performance in Israel. "If she does that in France, we'll be waiting for her," Le Pen said in reference to the video. SOS Racisme, an anti-racism organization, has come out in support of Madonna, calling her video, "anti-racist and feminist." It should be noted that the FN party has been associated with Nazi sympathizing and historical revisionism in the past. Le Pen, since her rise to FN party leader, has been working to change those perceptions of her party.
Madonna has been garnering headlines and publicity that is usually reserved for performers half her age. Her most notable press-grabbing stunt of late saw the pop star asking if "anyone [had] seen Molly?" at Ultra Music Festival back in March (we've tried to erase those flashing episodes from our minds). Some, most notably EDM producer Deadmau5, criticized the singer for making what appeared to be a thinly veiled drug reference. The name "Molly" is often synonymous with ecstasy, a drug whose rise in popularity has gone hand in hand with the rave culture found in EDM.
Check out video of the controversial montage below.