Sound and Vision: An 'American Idol' Wish List– Who Should Replace Jennifer Lopez and Steven Tyler?
You couldn't pay me to be an American Idol bigwig right now. The show is about to face its greatest challenge since the 2008 battle of the Davids (Cook and Archuleta).
The producers and the Fox network already have to worry about sagging ratings (the average viewership in season 11 dropped 23 percent to below 20 million for the first time in nine years, and the show fell from No. 1 for the season"to No. 2"for the first time since 2005), not to mention less commercially viable Idols and external competition from The Voice, The X Factor, and pretty much any reality show that promises to make a nobody a star.
Now, the producers have to deal with pleasing Mariah Carey, who has signed on as a judge next season, replacing either Jennifer Lopez or Steven Tyler, both of whom left after two years in order to focus full-time on their music careers (and in the case of Lopez, her "acting" career, too).
I once interviewed Carey for an Us Weekly cover story, and I found her to be warm, intelligent and surprisingly funny, but she's a diva through and through. (She actually walked into the living room of her New York City hotel suite cradling her miniature dog!) Idol will reportedly pay her a very diva-like sum of between $12 and $17 million a season (a hefty and not altogether worthwhile expense, considering that Carey is well past her pop heyday), and I don't even want to think about her list of perks and demands.
Meanwhile, there are murmurings that Randy Jackson, the last remaining original judge, currently in contract negotiations, might be moving from the judge's table into more of a mentoring role, in an attempt to revamp the show for season 12, launching in January of 2013. Sadly, that restructuring doesn't extend to Ryan Seacrest, the inexplicably still-highly employable host, who has signed up for another two years at a pay rate of $15 million per season. Is it too late to invite ex-judge Ellen DeGeneres back for the job they should have offered her in the first place?
But there's good news and more bad news. First, the bad: With Britney Spears and Demi Lovato in the judges circle next season on The X Factor, any future hiring decisions short of bringing Elvis back from the dead and putting him on the payroll (or successfully wooing one or both of the two most famous Justins in the world"Timberlake and Bieber) might end up being anticlimactic in comparison. The good: Judging a TV talent show is no longer seen as the professional demotion that it may have seemed like back when Christina Aguilera agreed to do it on The Voice. Idol can boldly go for the multi-platinum, not just the gold!
Case in point: Aretha Franklin, who recently told CNN that she wants to become an American Idol judge. Idol should already be frantically wooing the Queen of Soul to sign that dotted line. Not only is she a legend who would give Idol a legitimacy and credibility that it's never had, but it would be nice, for once, to have a judge whose own singing could blow away any wannabe Idol (including Carey — snap!).
Here are five other potential judges that the producers need to be considering, seriously.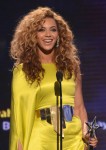 Beyoncé An even bigger get than Carey, Beyoncé, incredibly, is probably the one leading pop diva whose name has never come up to judge one of the TV talent contests, which is strange considering the empathy she would have with Idol contestants. As an original member of Destiny's Child (pre-Michelle Williams, back when they were four), she knows all about rising above cutthroat competition to emerge the breakout star (which would come in handy at the judges table, too). And if Jackson leaves, and they nab someone like Celine Dion to replace him, they could just rename the show American Idol: Divas Live and make it a Carey-Beyoncé-Dion singing competition, too.
Mark Ronson Every judges panel could use a Brit who knows his stuff (and he could fill the behind-the-scenes-talent slot, previously occupied by Jackson and Simon Cowell), and I'd tune in just to admire his sartorial eloquence and to hear the stories he might tell about working with people like Boy George, Adele, and Amy Winehouse.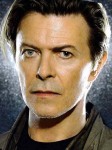 Enrique Iglesias He's talented, he's successful, and the man currently known as Jennifer Lopez's co-headlining touring mate would bring something to Idol that the show has never had: male eye candy at the judges table.
David Bowie Why aim as low as Adam Lambert, who recently said he "would be more than flattered to have that discussion" to be an Idol judge. He may know firsthand exactly what it takes to be successful on the show, but getting him would hardly be a coup. Why not aim super high and go for one of the icons who taught him and Lady Gaga and pretty much every drama queen in pop everything they know about putting on a show? Plus imagine David Bowie Week, also known as The Best Idol Week Ever!
Selena Gomez Take that, Demi! And in the audience tonight, Justin Bieber!