Sound & Vision: Can Muse Become the Biggest Band in the World?
Move over, Coldplay. And tell U2 the news. Muse is gunning for the latter bands' longtime job, the one for which the former might be considered naturally next in line: biggest rock band on the planet.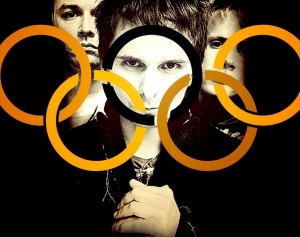 Bono, for one, may have seen this coming. When Muse opened for U2 on U.S. dates of the iconic Irish band's 360° Tour in September and October of 2009, U2 frontman Bono touted the young English trio as one to watch " and listen to " the next biggest thing. Muse deserved the distinction: What other rock & roll band can claim responsibility for inspiring the Twilight saga?
And, finally, thank you to the talented musicians who inspire me, particularly the band Muse " there are emotions, scenes, and plot threads in this novel that were born from Muse songs and would not exist without their genius.

" Twilight author Stephenie Meyer
But being the muse of a best-selling author and earning plum spots on the soundtracks to the blockbuster films based on her blockbuster book series do not ruling rock Gods make. Muse, though, is about to give it a shot with their upcoming sixth album, The 2nd Law (due October 2), which is receiving perhaps the biggest pre-release marketing push since Lady Gaga's Born This Way.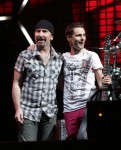 Why the earnest bid for world domination now " so many albums into the band's career? U2 had already achieved multi-platinum status three albums in (by 1983's War), while Coldplay became multi-platinum Record of the Year GRAMMY winners (for Clocks) with 2002's A Rush of Blood to the Head, its second album.
That kind of massive success, however, continues to elude Muse " at least in the U.S., land of the free, home of the brave, and the rock and roll battleground that must be conquered by any act gunning for biggest-band-in-the-world honors. The road to blockbuster status in the U.S. has been rockier for Muse, making for a more gradual journey to the top.
The band's last album, 2009's The Resistance, was its biggest yet, hitting #1 in multiple countries and earning the guys their first GRAMMY (for Best Rock Album), but in the U.S., it only went gold (500,000 units shipped). Meanwhile, despite having landed in the U.K. Top 10 with several singles, Muse has yet to get there in the U.S. The single to come closest so far has been Uprising, which hit #37 in 2009.
If rock & roll survival is all about the ability to outlive passing trends and flavors of the minute, then Survival was supposed to be all about making Muse more than rock & roll survivors. Vocalist and guitarist Matthew Bellamy wrote the song with the 2012 Summer Olympics in mind, and it ended up being made the official theme of the Games.
The boys in the band became something of Olympic mascots, serving as torchbearers in their hometown of Teignmouth on May 20 and performing Survival at the closing ceremony. Still, the song, the first single from The 2nd Law, couldn't ascend higher than #22 on the U.K. singles chart, and NBC tellingly left it out of its televised Olympics coverage in the U.S. So much for must-see TV.
Muse is trying again with its latest single Madness, a pulsating techno number that sounds a lot like Zooropa/Pop-era U2 "Numb" " only with better singing. While it's nice to hear Muse breaking out those test tubes, it's somewhat disconcerting to hear a band that's always been so distinctive (prog-rock for the new millennium) trying so hard to get with the times but sounding more like an oldies act " '90s U2, Depeche Mode, and Queen circa 1980 " than a modern one. If the band was going to dive into electronic experimentation, I wish they'd had the nerve to go as far as Radiohead did with Kid A, or use truly cutting-edge acts like Metronomy, Phoenix, and Skrillex as reference points. (Bring in 'da noise, bring in 'da Daft Punk!)
Lest they alienate old-school Muse fans, Bellamy and company are hedging their bets with just enough classic Muse touches to keep them onboard. Survival, despite the Olympic pandering, is vintage Muse, while The 2nd Law: Unsustainable" merges old- and new-school Muse to typically bombastic effect. It's a keeper.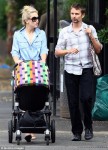 But will it be enough to please longtime followers while winning over new ones who might know Bellamy best as Kate Hudson's fiance and the father of the actress's 1-year-old son Bingham? And speaking of Hudson, how will she factor in? Will Bellamy's engagement to a Hollywood starlet " and not even one with the indie cred of, say, Gwyneth Paltrow " help or hurt Muse?
Chris Martin's Paltrow connection neither hurt nor helped Coldplay, but that band was already a multi-platinum act when Gwyneth came along. Muse may have less to lose (three U.S. gold albums would put them well below Nickelback in the hierarchy of successful rock bands), but the threesome still has a lot more yet to be gained.
Biggest band on the planet? With U2 and Coldplay currently between albums and temporarily out of the running, there's a small window of opportunity. Will Muse get through it? Gold is a given, platinum a not-impossible dream, and blockbuster status still somewhat a longshot. Once again, the U.S. will have the deciding vote.
More like this: