Sound And Vision: No Doubt Rides Again–But Can Gwen Stefani & Co. Rise Again?
The '90s are about to face a crucial test, one that might determine if the Clintonian era even has a shot at matching the staying power of the Reagan '80s, a decade that continues to resonate more than 20 years after it ended. Welcome back, '90s stars Soundgarden, SWV, Garbage, Brandy, Matchbox Twenty, Green Day, the Wallflowers, Blur, Aaliyah (via creepy interloper Drake) and No Doubt.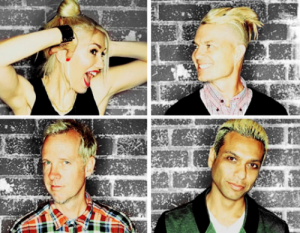 A decade is a long time in life, and an eternity in pop music, especially when you've spent one in a state of virtual inactivity, as did No Doubt, the band that will release its comeback album, Push and Shove, on September 25 (the same day Green Day returns with Uno!, the first of a trilogy of albums that the rock trio will release in the coming months). When No Doubt put out its last studio album, Rock Steady, in December of 2001, George W. Bush was less than one year into his first term as President of the United States, Friends was the No. 1 show on TV, and dated acts like Shaggy, Crazy Town and Ja Rule were scoring No. 1 singles on Billboard's Hot 100.
The world, still reeling from September 11 exactly three months earlier, had yet to hear of Barack Obama, Taylor Swift and Lady Gaga, YouTube, Twitter and Facebook, iPads, iPhones and American Idol. Britney Spears was the biggest female pop star on the planet, and she was in love with Justin Timberlake, best known as heartthrob No. 1 in 'N Sync, the world's biggest boy band. In this post-millennial world, Rock Steady went double-platinum in the U.S. and produced three hit singles, including the Top 5 hits Hey Baby and Underneath It All.
My how things have changed. Frontwoman Gwen Stefani has since married fellow '90s rock star Gavin Rossdale (lead singer of Bush), become a mother of two, released two hit solo albums and moonlighted as a fashion designer and actress, portraying Jean Harlow in Martin Scorsese's 2004 film The Aviator. The boys in the band kept busier than most do whenever groups for which they aren't the lead singer go on lengthy sabbaticals. Bassist Tony Kanal even served as co-writer and co-producer on a couple of tracks on Pink's 2008 album, Funhouse, including the Top 20 single Sober, and Adrian Young subbed behind the drum kit for Bow Wow Wow, among other bands.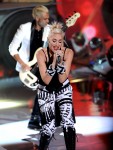 Now Stefani & Co. are back, and they're gunning to reclaim their spot near the top of the pop heap. The comeback began in 2009 with an appearance on the May 11 episode of Gossip Girl (performing Adam and the Ants Stand and Deliver as fictional band Snowed Out) and a summer world tour. It did well, selling out many dates, but nostalgia value always works wonders in concert (and when appearing in an '80s-flashback episode of a popular TV show). It's the reason why Duran Duran continues to be a major touring attraction while fans more or less shrug when they put out new music. Does the same fate (decent reviews, lackluster sales) that met Not Your Kind of People, the recent comeback album by Garbage, which toured with No Doubt in 2002, await Push and Shove?
That might be a distinct possibility. In a fall crowded with comeback releases by '90s titans (Matchbox Twenty's North, the band's first studio album since 2002's More Than You Think You Are, just hit stores on September 4), Push and Shove has generated middling buzz thus far for the now-fortysomething pop-rockers. Meanwhile, despite debuting at No. 34 on Billboard's Hot 100 two months ago, Settle Down, the first single, has been sliding downward ever since.
For the chart week ending September 8, 2012, the song, which sports No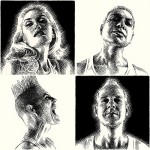 Doubt's classic Caribbean-inflected groove without a hint of pandering to current pop tastes, was at No. 61, 49 notches below the No. 9-peaking (so far) Blow Me (One Last Kiss), the two-weeks-older return single by Pink, whose The Truth About Love comes out one week before Push and Shove. Speaking of Pink, Stefani did just that during an interview I did with her for Teen People back in 2000, right around the release of No Doubt's Return of Saturn. When our conversation turned to a hot newcomer named Pink, Stefani, whose hair was dyed pink at the time, worried about the long-term prospects of a talented singer named after the hue of her hair.
But alas, it's not over till the fat lady sings, and the thin one (that would be non-Hollaback Girl Stefani) is only warming up. A second single, the title track, debuted on iTunes on August 29, just in time to revive pre-release interest in Push and Shove. It might not be enough to make the new album the Tragic Kingdom of the 2010s or make us forget about Gaga, Katy Perry and Ke$ha, but it's nice to have the best of the '90s back in 2012.