Tegan and Sara Stream New Single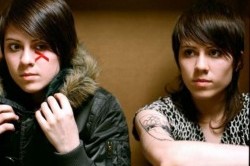 Tegan and Sara have released a brand new song on the cusp of their upcoming tour with The Killers. Loaded with synth and pure pop, "Closer" comes off the band's album due out in January of 2013 and packs a punch.
Sara calls ˜Closer' my ˜let's get it on' track, Tegan told Rolling Stone in a recent interview. And although I do imagine that this would be an okay song to make out to, all I intended was to write something sweet that reminded the listener of a time before sex, complicated relationships, drama and heart break. In short, I was writing about my youth. A time when we got ˜Closer' by linking arms and walking down our school hallway or talked all night on the telephone about every thought or experience we'd ever had. It wasn't necessarily even about hooking up or admitting your feelings back then. In fact THAT rarely happened. It was the anticipation of something MAYBE happening that was truly exciting and satisfying. We were perpetually getting ˜Closer', yet we rarely got physical with one another, if ever. These relationships existed in a state of sexual and physical ambiguity. Is there anything more romantic than that?
You can check out Tegan and Sara on tour with The Killers this October through December here. Haven't heard Closer yet? Just scroll right on down or listen here.
<em>More like this:</em><ul> <li><a title="Q&A With Tegan And Sara" href="/2010/9/7/qa-with-tegan-sara" target="_blank">Q&A With Tegan And Sara</a></li></ul>