Music Sales Were Up In 2011?! Thanks Adele!
The music industry just got one more late Christmas present last week when Reuters reported that US total music sales were actually up compared to the previous year. While combined physical and digital sales were only up 1% over 2010's numbers, that still much rosier than 2010's 13% decline in album sales. In fact, there hasn't been a year over year increase in music sales since 2004.
So, why the the reversal of fortunes? Innovative new marketing strategies? The success of direct-to-fan online music distribution initiatives? The continuing vinyl comeback?
Sorry, the correct answer is Adele.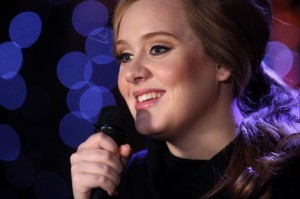 Yes, the British singer-songwriter certainly had a good year. Billboard reported that, unsurprisingly, Adele had the best selling album along with the best selling single of the year with "Rolling In The Deep". The singer's sophomore effort, 21, moved a staggering 5.82 million units last year. Records haven't sold this well since Usher's Confessions"with tracks "Yeah!", "Burn", "Caught Up""in 2004. The next best selling record of 2011, Michael Bublé's appropriately titled Christmas album Christmas, which didn't sell half as many copies, only going double platinum by years end.
It's not fair to say that Adele is the only reason why it looks like the music industry is turning a corner this year. CD sales may have dropped another 6.5% this year but digital sales increased by nearly 20% and now make up around a third of all music sales. The vinyl market, which still make up only a small segment of all music sold, ticked up again in '11, with about 3.9 million vinyl LPs sold compared to 2.8 million in 2010. This year also wasn't short on other big, high profile releases from the likes of Jay-Z and Kanye West, Lady Gaga and Jason Aldean, amongst others.
But it's time for a reality check. Let's look at the numbers: There were 330.57 million units sold in 2011, compared to 326.15 million in 2010. In a world where, God forbid, 21 never came out, the sales reports for 2011 would read a lot more like what they have in the past.
Based on this, would it be safe to say that the industry is turning a corner? Not quite. While it was fantastic to have a big budget release like Adele's, hers wasn't the only big sales story of the year. Katy Perry's historic chart dominance continued in 2011 and whether she'll be able to overtake Michael Jackson's record for most consecutive #1 singles still remains to be seen. Folk rockers Mumford & Sons had their debut record go platinum stateside, proving that an indie record could be a true sales juggernaut. Finally, the streaming music revolution that players like Spotify and Pandora are propagating don't appear to have taken a big chunk out of album sales just yet.
Only so much can be gleaned from a single year's worth of sales data. We'll have to wait until 2013 to see if 2012's sales figures are indicative of a comeback or an aberration. Until then, thank you Adele for continuing to save the music industry as we know it. Keep up the good work!