PSY's K-Pop Invasion: The Continued Decline of Western Pop Courtesy of the East
As if A-Pop wasn't bad enough already. Just when one might have thought that American pop, with all its auto-tuned voices and fake plastic beats, couldn't possibly make the eyes and ears bleed more, it's about to get worse. Nicki Minaj is set to bombard us with more of her overexposure via a series of reality specials on E!, her new gig as a 12th-season American Idol judge, and, of course, more music, while Britney Spears, of all vocally challenged singers, is already sitting in judgment of wannabe A-Pop idols on The X Factor.
And last but not least scary, Ke$ha's back, and going by the early success of Die Young, the first single from her upcoming sophomore album Warrior (out November 30), she's here to stay"at least for the time being.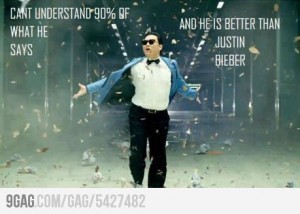 Yes, A-Pop is in dire straits"but it's been there before. It was exactly 16 years ago, yet it seems like only yesterday, that Macarena"Spanish pop's biggest and most annoying global sensation ever, until Ricky Martin shook his bon bon at the 1999 GRAMMY Awards ceremony"was the A-Pop flavor of several months. It spent 14 weeks atop the Hot 100 and inspired one of the biggest dance crazes since the Twist. Fast forward nearly two decades, and the smash single, the one-hit wonders who sang it (Los del Rio), and the dance it inspired have long been forgotten (thank God). But another foreign-language musical import has now washed up on U.S. shores
Here comes K-Pop, the latest tacky musical movement to invade A-Pop. Its loaded weapon: Gangnam Style," the breakout hit from veteran Korean rapper and K-Pop sensation PSY (pronounced like the first syllable in psychology), one that took a mere three weeks to rise to No. 2 on the Hot 100, en route to the top.  (It had already summited the singles charts in most of the rest of the English-speaking world, including the U.K., Australia, Canada, and New Zealand.) If it has a familiar nauseous ring, it's probably because it basically sounds like one of those dreadful No. 1 LMFAO hits translated into Korean.
Back when Macarena was defining 1996 in A-Pop, it didn't have YouTube and Twitter to tighten its death grip. But where would Gangnam Style be without them? Today's online forum most likely to break new artists since the days when MTV still stood for music television (that would be YouTube, in particular) has turned Gangnam Style into the latest wave of the decade, the most-buzzed-about video since Beyoncé's Single Ladies (Put a Ring On It).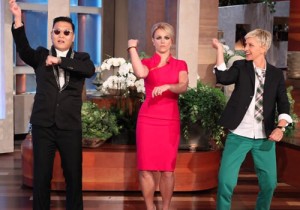 As of October 3, it had racked up well over than 350 million views on YouTube, making it the site's most watched clip of 2012. There are pages of YouTube parodies, tributes, and assorted other offshoots, including a clip of PSY teaching his Gangnam Style horse moves to Ellen DeGeneres and Britney Spears on DeGeneres's daytime talk show. As of the beginning of October, the Ellen video had racked up more than 30 million views, roughly the same number as the No. 1 song, Maroon 5's One More Night.
Wonder if this would measure up to the high talent standards of The X Factor recently cited by Spears when she dismissed her former duet partner Don Philip. Her boss and fellow judge Simon Cowell called it brilliant and amazing on Ellen, and Spears was one of many celebrities who helped it go viral via Twitter. We love you…. You are amazing! DeGeneres screeched as if PSY were James Brown reincarnated, while Spears actually looked kind of starstruck. In just three weeks of chart action, PSY's smash is already shaping up to be a bigger hit than any she's had since her first, "…Baby One More Time," in 1999. And all it took was minimal musical talent and some cheesy dance moves. Sound familiar?
Is this the best that K-Pop, South Korea's musical and cultural Far East movement, can do? Living in Bangkok for 13 of the last 15 months, I've probably had more exposure to sugary K-Pop than is probably good for my dental health. Every time I see a K-Pop video, I feel like I've fallen through the looking glass into a time warp that's transported me back at least a decade to a time when turn-of-the-century boy bands like 'N Sync and Backstreet Boys and lesser girl groups like Eden's Crush and 3LW roamed and ruled the earth. It's 2001 or thereabouts all over again.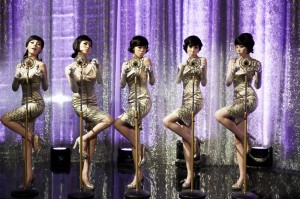 Yes, K-Pop might be fresh and new to Asia, the sound of the modern times, but to any Westerner born in the last century, it's hopelessly derivative, a throwback to another time and place when everybody was singing and dancing in unison. Despite the dated sound, for the most part, K-Pop's leading acts"Wonder Girls and Super Junior, among them"song-and-dance in unison fairly well. It's unfortunate that when West finally embraces East on the Hot 100, it's not through a K-Pop hit by one of the genre's talented singing acts but with a track that's little more than a novelty number featuring a well-dressed rapper who makes MC Hammer look timeless and positively hood.
With a little luck, and a resurgence of good taste, his A-Pop reign will be even shorter lived.