The Future Got Odd: Death Grips, Kreayshawn, And The Major Label Embrace Of Rap's Weird Side
The Internet is difficult to profit off of. Businesses can be built here, but even behemoths can have issues staying afloat for very long. Facebook, the service that is actively used by one in seven people on the planet, is struggling to find an answer to the mobile question. Spotify, a service that we've covered here time and again, operated at a $60 million loss in 2011. YouTube just recently became profitable, relatively speaking. And as many artists and labels will attest, it's even harder to make a profit off of the Internet's use of music.
Once upon a time, musically speaking, the hot commodity was indie rock. Some blog buzz could take a band from nothing to the mix CDs of an entire generation. If you got lucky you soundtracked an Apple commercial. At some point the online conversations stopped being completely dominated by fey twee types and instead embraced two distinct musical styles"brash, swagged-out hip-hop and the over-sexed maximalism of electronic. Tastes shift. Money presumably follows.
The conversation about money and electronic music isn't particularly interesting. Outside of the overhead presented with renting lighting rigs, it's essentially found money. But making money from hip-hop born out of the web instead of street corners has been a far trickier proposition. Internet rap is weird. Where did it all start? Probably with Odd Future, the Southern California rap group masterminded by teenage terror/ MTV VMA Best New Artist Tyler, The Creator. He and the rest of his crew have had a pretty commercially successful run thus far while staying basically independent. But how have the majors fared in this climate?
There are two acts that can be used as case studies for this question. Death Grips is a noisy rap three piece from Los Angeles, currently signed to Epic Records. Kreayshawn is a 23- year-old female emcee from Oakland, Calif. who landed at Columbia, signing a record deal that was rumored to come with a million dollar advance. Savvy readers will note that both Epic and Columbia are part of the larger Sony Music family. At this point both Death Grips and Kreayshawn have spent the better part of a year on the roster of a major label. Since both acts have seen singles and full lengths come out during their time on their respective label's rosters, we have enough information to make informed judgements about how each has done in their careers thus far.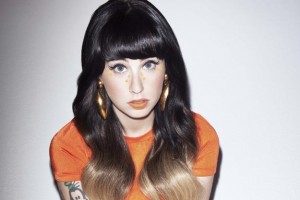 Kreayshawn started out with some serious wind beneath her sails. The "femcee" exploded into the Internet and mainstream consciousness with the release of the video for "Gucci Gucci," a beast of a cut that introduced the term "basic" to a lot of people. "Gucci Gucci" was the best introduction that Kreay could have, a catchy slice of pop rap that instantly told listeners everything they needed to know about her.
But success for Kreaysahwn, born Natasia Zolot, would be fleeting. A gig directing the music video for Red Hot Chili Pepper's The Adventures of Rain Dance Maggie fell through after the band disliked her visual treatment. Then Camp Kreay went quiet. It took 11 months for "Breakfast (Syrup)," the followup single to "Gucci Gucci," to appear. The response to the track was lackluster despite featuring 2 Chainz, 2012's rap game King Midas.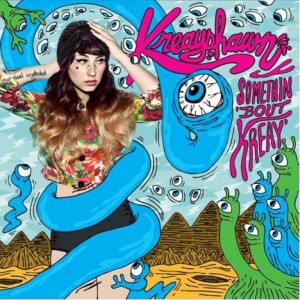 Kreayshawn's full length debut, Somethin' 'Bout Kreay, came out in September of 2012, over a year after Gucci Gucci initially caught fire. The album moved a disappointing 3,900 copies in its first week, debuting outside the Top 100 on Billboard's album chart. Part of the explanation for the low first week sales was a lack of physical product. Complex noted that Hot Topic was the only brick and mortar retailer to carry the album in the first week. Regardless, the sales were especially disappointing in light of the fact that fellow White Girl Mob alum (and magnet for controversy) V-Nasty had better debut sales with her "tepidly received" collaborative album with Gucci Mane, BAYTL.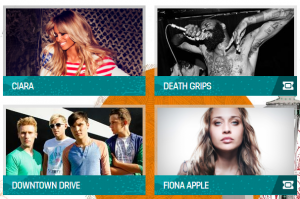 Death Grips looks like an even riskier proposition on paper. The rap group is arguably the most controversial and anti-commercial act on Epic's"or any other major label's"roster. Everything about Death Grips is abrasive; transgressive lyrics, no budget music videos, and productions that at times recall Lou Reed's Metal Machine Music. That said, Death Grips have fared surprisingly well in their label environs.
While the group can't boast of high record sales, they are heavily downloaded. In fact, Death Grips was the most popular act in terms of legal downloads through peer-to-peer service BitTorrent in the first half of 2012. The group had their material downloaded over 34 million times in the first two quarters of the year, beating their closest competition, Counting Crows, by 7.15 million downloads. Death Grips secured even more viral buzz with the release of their third LP NO LOVE DEEP WEB.
Everything about how NO LOVE DEEP WEB came out"from the surreal scavenger hunt to the rebellious leak of the record by the group against the wishes of their label to Epic's supposed take down of the band's own website to the very, very NSFW cover art for the album"is meant to grab attention. It certainly succeeded on that front. Sure, they didn't move any units with NO LOVE DEEP WEB, but they're certainly well positioned for the tour dates that were announced and will likely sell a healthy amount of records if they ever choose to release a sellable music product. The thinking must be that whatever sales might have been lost by the series of stunts around the release will be made up for with cultish engagement.
Let's recap. A reasonably attractive female performer who is in touch with the trends of the moment and backed by a label with deep pockets comes up short on her first go around. On the other hand, a group of artists who are intent on wringing the ugliest and darkest sounds they can from hip-hop keep raising expectations on what they're going to do next. One comes with high overhead, the other with none.
While neither act has really brought in the big bucks for their respective labels, the winner of the expectations game is obvious. And if Death Grip's relative success means more wildly creative acts may get signed to and reap the benefits offered by major labels, then all the better.
More like this: