Sound And Vision: The Best and Worst of James Bond Themes
The 007 Effect: What getting cast as the main theme for one of the James Bond film franchise's 23 official entries can do for a song. Alas, the results of being Bonded can be as mixed as the songs themselves.
Adele's brand new theme for Skyfall, aka James Bond XXIII (in U.S. theaters November 9), sure to be Top 10 or rapidly approaching that hallowed chart vicinity by the time you read this, is the first James Bond song to become a hit since the Pierce Brosnan era (1995-2002).  That was when Madonna's Die Another Day, from the 2002 Bond film of the same title, went to # 8 on Billboard's Hot 100.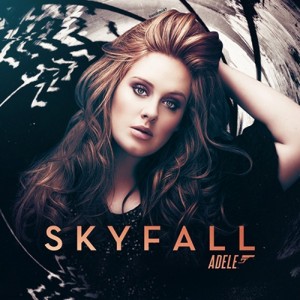 Before the Madonna hit, that Elton John at the time called the worst Bond song ever, it had been 17 years since a 007 theme had even charted on the Hot 100. That Bond entry, Duran Duran's a View to a Kill, has long enjoyed the honor of being the series' only song to top Billboard's Hot 100. It's a feat that iconic Bond classics like Carly Simon's Nobody Does It Better (# 2 in 1977), Paul McCartney and Wings' Live and Let Die (# 2 in 1973) and Shirley Bassey's Goldfinger (# 8 in 1964) couldn't quite manage.
Whether it results in a chart hit, being invited to serenade Bond is loaded with prestige. Leave it to Adele, though, to break the recent cycle of Bond flops. If the most beloved female pop star of the moment couldn't do it, then who? But what about the song? Creatively, "Skyfall" is sort of throwaway. Without the Bond connection to further boost its profile (along with its status as the first new Adele recording in nearly two years), it would hardly be a guaranteed chartbuster.
In the 007 canon of song, it probably falls somewhere in the lower middle, well below For Your Eyes Only, sung by Sheena Easton when she was in a similar position career-wise that Adele is in now, and Nancy Sinatra's You Only Live Twice, but well above the one by Sheryl Crow (see below).
How do Bond songs from over the last 50 years stack up? Read on…
The Best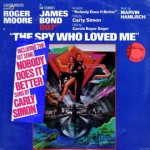 Nobody Does It Better Carly Simon (from 1977's The Spy Who Loved Me) Her greatest hit, after her 1973 # 1 signature song, You're So Vain, and the very best of Bond. It's one of the few Bond singles that probably would have been massive even without cinema's most famous spy to fall back on. It didn't need to be named after the film in which it appeared (though the spy who loved me is mentioned in the lyrics) to forever be synonymous with 007.
License to Kill Gladys Knight (from 1987's License to Kill) Further proof that Brits have better taste in pop songs than Yanks: The gorgeous theme to the second of two Timothy Dalton-era Bond films"and the best thing a Pips-free Knight ever released"was a Top 10 hit in the U.K. that didn't even scrape the Hot 100. If You Asked Me To, Patti LaBelle's secondary theme from the same film (and also a U.S. pop flop until Celine Dion covered it a few years later), was just as good.
Moonraker Shirley Bassey (from 1979's Moonraker) Forget Goldfinger, which is over-the-top in that drag-queen-pretending-to-belt-out-a-show tune kind of way. Diamonds might be forever, but as Bassey-sung Bond themes go, the one she sang for the fourth of seven Roger Moore Bond films (he, not Sean Connery, will always be the quintessential 007 to me, because he's the one I grew up with) remains her crowning achievement.
All Time High Rita Coolidge (from 1983's Octopussy) Clearly I have a predilection for Bond themes from 007 movies starring Roger Moore. Like Daniel Craig, three Bonds and 23 years later, this one is by far the sexiest of the bunch.
Another Way to Die Alicia Keys and Jack White (from 2006's Casino Royale) My burning love for the theme for Daniel Craig's sophomore Bond outing might put me squarely in the minority. At the time of its release, I prayed it would be the template for a future merger of rock and soul that never quite materialized.
The Worst
Tomorrow Never Dies Sheryl Crow (from 1997's Tomorrow Never Dies) I love me some Crow, but a Bond love theme deserves to be belted, and Crow just wasn't up to the vocal challenge. It makes one wonder why k.d. lang, who sang Surrender, the far superior secondary song in Tomorrow Never Dies, wasn't booked for the main gig.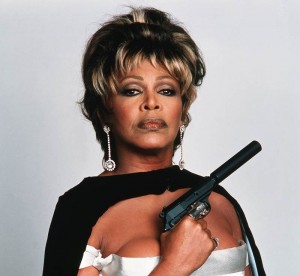 Goldeneye Tina Turner (from 1995's Goldeneye) I always thought that this sounded more like a parody of a Shirley Bassey-sung Bond song than something worthy of a rock & roll queen. Not one of Turner's standout moments.
The Man with the Golden Gun Lulu (from 1974's The Man with the Golden Gun) To sir, with not nearly as much love as she gave to Sidney Poitier seven years earlier.