Tegan And Sara Release "I'm Not Your Hero"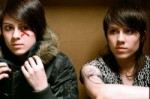 In another step toward a new sound, Tegan and Sara have released I'm Not Your Hero, their second single off Heartthrob. Due out in spring 2013 via Warner Bros. Records, Heartthrob led fan's anticipation with the first single, Closer last month. Though fans have feared a more mainstream sound from the duo after their announcement that this would be a pop album, Tegan Quin hopes to put fan's worries to rest.
When you say ˜pop' these days, everybody thinks Katy Perry, Tegan Quin said. We mean pop in the very eighties sense: hooks, keyboards, lots of vocals.
Check out Tegan and Sara on tour all through December, and listen to I'm Not Your Hero right here.
.
If you like Tegan and Sara, check out OurStage artist Vic and Gab.