Sufjan Stevens, New Video Includes Christmas, Claymation, Zombies, Bloodshed, And More!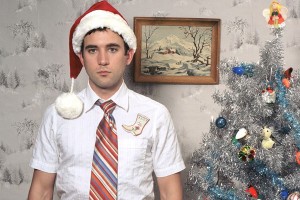 Prepare yourselves for the best video of the year. Experimental indie artist Sufjan Stevens has a new video for his song "Mr. Frosty Man" from his upcoming 58-track Silver & Gold Christmas box set. The footage is a full 2 minutes of complete claymation carnage, with zombies, brains, bloodshed, a heroic snowman, references to The Evil Dead, and an unfortunate Santa Claus. The song itself is a silly sloppy garage style romp of out-of-tune guitars and "whatever's around" percussion, and like most Sufjan Stevens songs, it doesn't seem to resemble anything else he's made. The Silver & Gold box set will be released on November 13th. Check out the video for "Mr. Frosty Man" below.
If you like Sufjan Stevens, then you might also like OurStage's own The Tiny Tin Hearts.
More Like This: