Exclusive Q and A: Jake Owen Keeps the Summer Party Going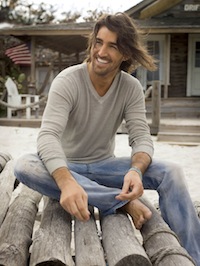 Jake Owen is working his way around the country on his first headlining stint, "CMT Tour: The Summer Never Ends Tour," behind his new EP Endless Summer that debuted at #2 on Billboard's Top Country Albums Chart. As if that isn't enough, he and his wife Lacey are expecting their first child in a few weeks.
The golden rays of summer still seem to be shining bright for the Florida native whose 2011 album Barefoot Blue Jean Night debuted at # 1 on Billboard's Top Country Albums Chart and launched back-to-back # 1 hits.
Owen took time out of his high-energy days to talk to OurStage about his career, his music and more.
OS: What have you learned so far on your first headlining tour?
JO: It's a lot of hard work, not just on my part. I've got the same crew but we've never had video screens and things like [our] own sound system before. We never traveled with tractor trailers before! I told them at the end of rehearsal for this tour, thanks so much for believing in it and getting us through the hard times as we worked toward this. We deserve to be here. It takes an army to win a war and I'm very appreciative of all of the hard work they've done. It takes everyone's efforts to make this work.
OS: What has been the biggest change in your outlook toward music in the years you've been an artist?
JO: I have gotten to the point of my life and my career that music is just an artistic expression. It's a blank canvas, and I can do whatever I want with it. What I don't want to do with music is to make it sound too produced. But at the end of the day, the best music is what makes you happy and what makes your fans happy. That's how I make music.
OS: I hear a lot of different formats in your music. I think some people might be surprised to know that you're a fan of so many different sounds.
JO: Absolutely! And I like to mix all different genres of music. Guys that are blues guys, jazz guys, rock guys, [those types of artists] influence our music. Once I got by that I have got to do music this way, it all came together. I do the music I want to do because I can. Then I can let people decide if they like it or not. But, really, when I decided to make music my way, that's when everything began happening for me and my career started to blossom.
OS: You just came out with a new EP. Why did you do that instead of a full album?
JO: I just wanted to get the songs out to the fans as fast as [I] could.
OS: Well it seems that your fans are really enjoying them. On fan boards, they're always talking about the mix of songs and how much they like all the energy in the shows.
JO:  I am in the format of the country music artist, but the shows feel like rock shows. I should say they feel like country music but there are a lot of rock and hip-hop influences. I see what the fans say on Twitter and, you know, it's great to see what they like. That's one of the best parts of social media.
OS: So talk about the songs on your new recording. How did you decide which you wanted?
JO: I choose songs that really felt good to me. You know, people create their own playlists and everybody has a summer mix. That's what I wanted this record to sound like. I'm from Florida, so really it was like summer all year 'round. Even at Christmas, it was 80 degrees. So when I sat on a bar stool in a bar in my hometown I was singing songs for the summer. "Sitting on the Dock of the Bay," or something by James Taylor. Those songs reminded me of the sun and feeling good and being out with my friends.  Everybody has songs they associate with summer. So this record is like a compilation. Even if it is the dead of winter, I know from Twitter that fans can't wait until summer rolls back around. So I wanted to give them something that reflected summer never ending. I wanted to create a mood and excitement.
OS: So the tour is going great and the music is really a hit with fans. When we talk again, what do you think we'll talk about?
JO: My little girl! She is due November 22! We were unpacking baby things (recently), putting them in her room, and I realized it's only a few weeks away.
Find out more about Jake Owen, his tour, and his music on his official website.