Your Country's Right Here: Andrew Osenga Gets Spacey with Folk

Andrew Osenga has taken folk music where, arguably, no artist has gone before"space.
How else to explain the Nashville-based singer/songwriter/producer/musician Osenga's "story" Leonard, The Lonely Astronaut, released on September 18. Perhaps the album's theme was born of his love of science fiction and folk? Sure, rockers have explored this concept for years"David Bowie's 1973 album Aladdin Sane and Pink Floyd's 1973 album Dark Side of the Moon come immediately to mind"but it's fairly new territory for folk. Credit Osenga's eclectic taste in music for the turn.
"I was into grunge and then Peter Gabriel, Pink Floyd, all the shows on the big stages," he said of his early influences. "The music was heartfelt but they could hide the fact that they were heartfelt by putting on a big show. When I moved to Nashville I became friends with folk artists and really got into Paul Simon, Emmylou Harris…..And I'm a huge literary nerd, too, so that helped make this."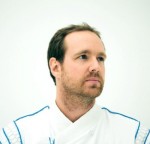 Osenga is no stranger to working in different formats, though. He has released five solo albums, co-founded The Normals, was involved in Caedmon's Call, plus produced music for a host of artists including Andrew Peterson and Matthew Perryman Jones. He was well prepared for such projects. The son of high school band teachers, Osenga grew up listening to marching bands and classical music, and learned to play piano and guitar. While still in high school, Osenga signed a musical publishing deal. A move to Nashville seemed a natural step.
"I find that I have to do my own records every now and then," he said. "I have a catalog of ideas in my head that I want to try."
An insomniac, Osenga has become something of an expert at making up stories to help him sleep. So it seemed natural that after watching the television series Battlestar Galactica, he started to hatch the idea of a spaceship and the idea of  a man named Leonard who is going through a divorce. When Leonard's wife dies in the middle of the process, he takes a job in a spaceship to escape his life.
"The Sci Fi concept is window dressing," he said. "The whole idea is to ask the question 'Why do I pull myself away from others? I'm married, have kids. Why do I go read a book or watch TV? It's a way to explore and figure out why I'm doing what I do. Wouldn't it be fun to use this Sci Fi guy to get some distance and get a different perspective about family, marriage, and friends."
Find out more about Andrew Osenga on his official website.