Exclusive Q and A: Jerrod Niemann Talks Music, Friendship and Why He Loves Dixieland Sounds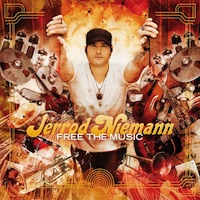 Jerrod Neimann considers himself living proof that following your heart can make the seemingly impossible happen.
It took him more than a decade of recording and releasing his own music, but he's now on the fast track to success. One big boost came when Brad Paisley heard his music and facilitated his signing to Arista Nashville's Sea Gaily label, which is co-owned by Paisley. Now Neimann's new album, Free the Music, is winning him critical acclaim and a legion of new fans. For this album, Niemann reached back to very early roots music and experimented with arrangements and instrumentation including brasswind horns, CLASP technology, and an acoustic b-bender guitar to create a psychedelic sound that's unusual in country. But the music on the album is more than that, harkening back to Bob Wills' western swing, a Dixieland sound, and more.
The formula is working on the road, too.
At a recent Nashville show, the first on his Jagermeister Tour, the sold-out crowd was friendly but raucous as Niemann worked his way through the new album including Top 25 song "Shinin' On Me," his first release from the album. Pop powerhouse Colbie Caillat surprised fans with joining Niemann on stage to perform his song "I'm All About You," and his long-time friend Lee Brice also joined him for an acoustic medley of Niemann's  hits.
"Dreams really do come true!" said Niemann after the high-powered evening.
Niemann took a bit of time out recently to talk about his album, his eclectic sound, and his love of Dixieland.
OS:  In a way you are in an enviable or unenviable position as a well-known songwriter yourself with Garth and others recording your songs. Tell us what you were looking to do with this latest album, perhaps adding things that you weren't able to do before? I know that you have a history of producing your own music, but was there something more you wanted to do?
JN: To be honest, when I came to Nashville I didn't have a passion to produce my own albums. I didn't even really think it was possible. Really it was because of lack of resources my friends and I produced the first album. We had a great time playing on it but we sort of wondered if anyone would actually hear it! But we had fun and Brad Paisley was gracious enough to [champion it to a major label] and they picked it up from us. The record label put it out just like we recorded it! And that was really exciting and that is how we were able to build a relationship with our record label. Then they let us do it again! That being said, I said "We are in a very lucky position. We should really dig deep and really try to come up with something unique and outside the comfort zone." The one thing that really kind of setting everything forward was that we used something that merged a reel to reel recording with today's digital technology. It's called CLASP; my buddy invented it. It put us in an analog state of mind.
OS: I have recently come to Bob Wills and, due to my own ignorance, I didn't realize how influential he was. And, of course, you have a lot of western swing on your album. I think what you're doing, using tones from western swing and other sub formats to move back into classic country while incorporating different elements, is a great way to educate people about different parts of country which may otherwise become extinct. I understand why artists want to merge formats, but of course you worry in doing that some of the sound of genuine country could be lost. That's why I love to hear so much pedal steel and fiddle on your album. You understand why artists want variety but you worry some of the essence of traditional country will be lost.
JN: Well, sure, and that's why I didn't try to duplicate it or replicate it. I just tried to absorb it and twist it into our own thing. The great thing about all of our heroes"what makes Bob Wills Bob Willis and what makes Johnny Cash Johnny Cash"is that they were unique and had their own thing to say. It took me a while. In Nashville it's OK to be envious of our heroes but you have to let them all in so you can be yourself. If you're going to be anybody, you might as well be yourself. That's why I didn't try to do western swing on every track. We just took those tones and tried to incorporate them into what we wanted to do.
OS: Tell us about a song on the album, any one you want, and how it came together.
JN: There's a song on the album that's one of my favorites called "Honky Tonk Fever." I started to put horns on this record, I really wanted to do some Dixieland-style instrumentation, because I love New Orleans, I love that sound, and it is reminiscent of part of our history. We did our own take on it. I didn't want it be just straight up Dixieland. I know my favorite instruments are clarinet, trombone, trumpet. I wrote the first verse to have the clarinet, and of course build suspense, and then I have the clarinet jumping off to the second verse, now on the actual chorus I had the trombone that came in and then we had trumpets and the bridge. Then they do a solo together. The reason it took me two years to write the song, is that I wanted every single section to change tempos and then also represent the memory of the lyrics. So you'll hear Dixieland sounds that represent California, maybe a kind of west coast sound in there for a time. We used Dixieland horns as continuity through the song because the nucleus of any song is built around the lyrics so that was kind of a departure.
OS: It all strikes me not just how inventive you are on this but also how brave you are. Were you worried how you would translate some of this in concerts?
JN: That is the best part about using your band on the album. We all figured it out together .
OS: You make it sound so easy and I know it's not.
JN: It was very hard to get to the final sound and I give a lot of credit to my co-producer Dave Brainard. He is an incredible brilliant mind. He is amazing.
OS: The partnership with a producer is so crucial. What was it that he brought to producing or co-producing with you that maybe others couldn't bring.
JN: The deal is, what makes him so brilliant, is that he can take any piece of technology and he can completely engineer anything. So I can concentrate on a lot of other things. At the same time, he was in the U.S. Air Force Band, so he can play many different instruments. He's such a genius.
OS: Going back to you starting out as a songwriter, how do you see yourself. How do you define who you are?
JN: You know, I'm a vehicle for music. You know, people have three or four different hobbies. For me, when it comes to music it is many different hobbies" writing, producing, and performing; those are each like a different hobby. The joy is that they all lead to the same thing. I'm sure if I could do just one of those, I'd be grateful. I'm very fortunate to be able to do all of those things I love.
Find out more about Jerrod Niemann, his tour, and more on his official website.