Your Country's Right Here: Risa Binder Makes Country Pop

Risa Binder not only lives in Nashville, she revels in it.
The country-pop singer songwriter may have grown up in Columbia, Maryland, but her heart was in Music City, after she found Loretta Lynn and then other icons such as Alison Krauss. Little wonder that the reality of living and working in Nashville — not to mention actually having Krauss drop by the studio in which Binder was recording her debut "Paper Heart" — still takes her breathe away.
"I just go and sit in the Bluebird Cafe and soak everything up," said Binder. "Nashville is so crazy. It's so exciting to be hear and hear a song come to life and play it and know others hear it. It's all about everyone creating music."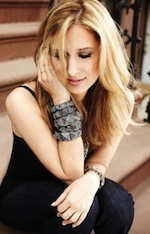 Binder got an early taste of that when she attended a songwriting camp at the Bluebird Cafe and met Allen Shamblin, who co-wrote Bonnie Raitt's ˜I Can't Make You Love Me.' The experience, during which Shamblin was an instructor, sent Binder's muse into overtime. It also set her on the path to leave New York and her fledgling theatre career and move to Nashville. But like most performers, she spend plenty of time out on the road with her band playing the songs she wrote that are something like short stories about her and her friends.
"The album is about the highs and lows of being in love and finding yourself, coming back to yourself, or just about the love of another person," she said. "'You Made it Rain' is a true story, about the best kiss I ever had. It's very personal but that is just me, sharing my life story with people and connecting with them that way.
"I grew up in the theatre , and I love connecting with audiences through stories."
Of course such stories and connections are what made country music so popular right from the start. Binder tells those stories over a musical soundtrack of pop — imagine Taylor Swift with Katy Perry and you have the right idea.
Listen to the pop-flecked "Just Like That" about falling in love in a heartbeat, or the funky "Second Time Around." You'll hear Binder's made-for-country stories bouncing along on the poppy, perky music.
This music might not be for traditional country fans but those that like their country peppy will find Binder's sound hits all the right notes.