Take Action Tour 2013 Reveals Lineup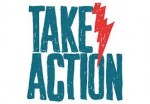 This year's Take Action Tour will be hosting headlining act The Used, along with We Came As Romans, Crown The Empire and Mindflow. The tour will begin in Las Vegas and conclude in Los Angeles. Along with the tour announcement, the track list for Take Action Volume 11 has been released. The album includes rare and unreleased tracks from Bad Religion, The Used, and All Time Low among others. Check out the tour dates and track listing after the jump and let us know what you think of this year's lineup in the comments.
Tour Dates:
1/11/13             Las Vegas, NV               House of Blues
1/12/13             Salt Lake City, UT          In the Venue
1/14/13             Denver, CO                    Summit
1/16/13             Kansas City, MO            The Beaumont
1/17/13             Minneapolis, MN             First Avenue
1/19/13             Milwaukee, WI                The Rave
1/20/13             Indianapolis, IN               Egyptian Room
1/22/13             St. Louis, MO                 The Pageant
1/23/13             Chicago, IL                     House of Blues
1/25/13             Pittsburgh, PA                Stage AE
1/26/13             Rochester, NY                Water Street Music Hall
1/28/13             Washington, DC              930 Club
1/29/13             Boston, MA                    House of Blues
1/30/13             Sayreville, NJ                 Starland Ballroom
2/1/13               Hartford, CT                   Webster Theatre
2/2/13               Atlantic City, NJ             House of Blues
2/4/13               Atlanta, GA                    Tabernacle
2/5/13               Tampa, FL                     The Ritz Ybor
2/7/13               Asheville, NC                 The Orange Peel
2/8/13               Cincinnati, OH                Bogarts
2/10/13             Detroit, MI                      Fillmore
2/11/13             Cleveland, OH                House of Blues
2/13/13             Tulsa, OK                      Cain's Ballroom
2/14/13             Houston, TX                   House of Blues
2/16/13             Austin, TX                      Emo's East
2/17/13             Dallas, TX                      House of Blues
2/19/13             San Antonio, TX             Backstage Live
2/20/13             El Paso, TX                   Tricky Falls
2/22/13             Albuquerque, NM            Sunshine Theatre
2/24/13             Phoenix, AZ                   Marquee Theatre
2/26/13             San Francisco, CA          The Fillmore
2/27/13             San Diego, CA                House of Blues
3/1/13               Los Angeles, CA             Wiltern
Tracklisting:
DISC 1
1. The Used – The Lonely*
2. We Came As Romans – Fair-weather*
3. AWOL Nation – Sail  (Unlimited Gravity Remix)*
4. Bad Religion  – Fuck You*
5. The Wonder Years  – Local Man Ruins Everything (Nervous Energies)*
6. Mayday Parade –  Oh Well, Oh Well
7. Falling in Reverse – The Drug In Me Is You
8. Enter Shikari – Warm Smiles Do Not Make You Welcome Here (Tek One Mix)*
9. Whitechapel – Animus
10. Periphery – Far Out (Instrumental)*
11. Sleeping With Sirens  –  James Dean & Audrey Hepburn (Acoustic
Version)
12. All Time Low – The Reckless & The Brave (Acoustic)*
13. Never Shout Never – Pray For Peace (Demo)*
14. 3OH!3 – You're Gonna Love This (Wuki Remix)*
15. The Summer Set – Fuck U Over
16. Say Anything – Their Notions
DISC 2
1. Glass Cloud – Everybody Wants To Rule The World*
2. Ice Nine Kills – What I Never Learned in Study Hall (6 Feet Below)*
3. Memphis May Fire –  Prove Me Right
4. Upon This Dawning – A New Beginning
5. Parkway Drive – Dark Days
6. SHARKS – Sea Of All Seas*
7. Balance & Composure – Quake
8. Silver Snakes – All My Eye*
9. Broadway Calls – Bring On The Storm*
10. We Are The Ocean – Machine
11. Transit – Skipping Stone (Alternate Version)
12. Seahaven –  Understanding*
13. Set It Off – Dream Catcher
14. I Am The Avalanche –  I'll Be Back Around
15. The Scene Aesthetic – Carelessly (feat. Dresses)*
16. Plug In Stereo – I Hope You Know (feat. Tay Jardine)*
17. William Beckett – 48 In A Hospital *
18. Itch – London Is Burning*
19. Twin Atlantic –  Make A Beast Of Myself (Space Brother Remix)*
20. The Animal In Me – Speak*
21. Hell Or Highwater – Come Alive (Acoustic)*
22. Palisades – Bury It (Acoustic)*
* denotes rare or unreleased
If you like The Used check out OurStage artist Gonzales.
More like this: