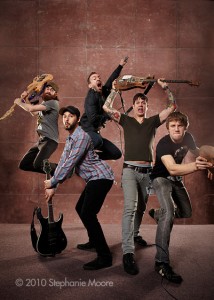 Visceral math-core metal masters The Dillinger Escape Plan are overdue for a new album. Luckily, according to vocalist Greg Puciato's Twitter, a follow up to 2010's Option Paralysis is in the works:
"Oh, and The Dillinger Escape Plan officially began recording our new album today. It is indeed a good day."
You can say that again. What to expect from this next release? Probably a lot of mind-bending riffs and rhythms mixed with some sort of jazz fusion, or perhaps they'll throw us a curveball like a cameo from Australian pop star Kimbra. Who knows! But you can bet yourself that whatever it is, it will not be for the faint of heart.
If you like The Dillinger Escape Plan, then you might also like OurStage's own The Summoned.
More like this:
Dillinger Escape Plan Guitarist Quits Band
Jekyll & Hyde: Rockers And Their Alter Ego Side Projects
Metal Monday: The Summoned