Jes Hudak: OurStage Pro Artist Of The Week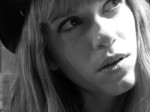 It's not often that an independent artist has their music featured on national television, reaches the Top 10 on the Australian iTunes charts, or gets the opportunity to sing the National Anthem at Giants Stadium. But there's one incredible female artist who has done it all (and more), and that's New York native and OurStage's own, Jes Hudak.
After learning piano at a young age, and first performing live at only 13 years old, Hudak took the world by storm by recording, producing, and self-releasing two albums, all while performing on the same stages as Maroon 5 and Gavin DeGraw. Since winning OurStage's Lilith Fair contest in 2010, she's won the Billboard World Song Contest in Pop, and released "No One In The World," which became an AOL Featured Music Video of the Day.
Her music takes the familiarity of catchy pop hooks and combines them with a strong and unique voice, making for a refreshing take on the tried-and-true singer-songwriter formula. But don't take our word for it. Listen to her track All Mine right here.
More like this: