Associated Press Names Adele Entertainer Of The Year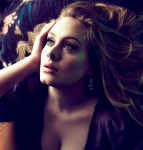 With all those Grammys she won in early 2012, it comes as no surprise that powerhouse soul/pop singer Adele has been dubbed Entertainer Of The Year by Associated Press. Not just singer of the year, or musician, but entertainer. That means she even beat out that guy down the street with the flaming hula hoop and the unicycle! And let me tell you, that guy is one hell of an entertainer. AP readers and staff rated her far above other major entertainers and celebrities such as Taylor Swift, E.L. James (author of Fifty Shades of Grey), PSY, and the entire Twilight cast. Now that's some high praise.
While she did not release a new album or do a world tour this year, Adele's singles from 2011 still remain among the most highly played tracks on radio, television, in movies, and more. We seemingly can't get enough Adele. Her most recent accomplishment, apart from delivering a baby, of course, is the single "Skyfall," written to be the title theme of the new James Bond film. According to Billboard, "The song recently received a Golden Globe nomination. No Bond theme has ever won the best original song Oscar, but given Adele's awards success thus far, it wouldn't be a stretch to think she has a chance of changing that." Regardless of whether she wins or not, Adele has still achieved more in one year than most entertainers do in their lifetime.
If you like Adele, then check OurStage artist Brittany Campbell.
More Like This:
OurStage's End Of The World Playlist; Songs For The Apocalypse
Rhythm & Cool
Music Sales Were Up In 2011?! Thanks Adele!