Holiday Album Review: CeeLo Green – "CeeLo's Magic Moment"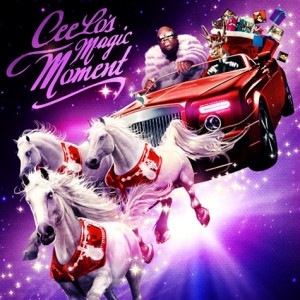 It's that magical time of year when we get to hear all of our favorite Christmas and holiday classics. In honor of this festive occasion, we decided to review one of the most popular and highly anticipated holiday albums that came out this season, CeeLo's Magic Moment by R&B singer CeeLo Green.
By now you are probably sick of hearing all the same old carols over and over, but if there's anyone to breathe new life into these standards it's CeeLo. As you can imagine, he brings a certain element of class and glamour to each track, while also introducing some fitting originals. However, the first half of the 14-track record is about all you need to get into the Christmas spirit. After that, it gets a bit boring.
Though needless to say, CeeLo has captured this "magic moment" the one way he knows best, with nostalgic soulful 70's style flair mixed with contemporary pop sensibility. His duet with fellow The Voice judge Christina Aguilera on "Baby It's Cold Outside" is surprisingly reserved and charming, whereas one might have expected the two powerhouse singers to overdo it. Don't get me wrong; there are plenty of rifs and runs between the two, but they manage to balance them dynamically with the smokey jazz club vibe.
To continue this feeling, CeeLo follows up with a cover of Donny Hathaway's "This Christmas." With smooth basslines, orchestral brass accents, and subtle strokes of clean guitar , the 70's homage sounds like it was recored in the same era in which it was written. Of course, this must lead into a smooth downtempo version of "The Christmas Song," which sounds like it easily could have been the work of R. Kelly. Yet, there's something uniquely comforting about Green's voice that makes this track an instant standard for holiday radioplay. In fact, many of these renditions are so respectfully executed that I am sure they will be welcomed into the ever-growing repertoire of iconic holiday classics. With the slick production quality and "sexy" R&B/jazz vibe, I can picture this album being the soundtrack to some high-class New York penthouse Christmas party.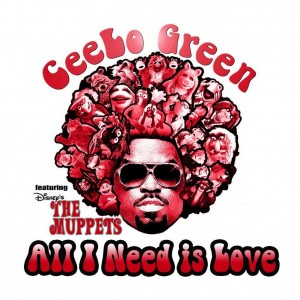 There are plenty of fun tracks for the whole family, though. "All I Need Is Love" is an upbeat original featuring none other than the jolly old Muppets themselves. While the song is a bit awkward, upon listening, you can tell it was clearly made for the video, which is fun and hilarious. Believe it or not, however; the track that follows is probably the most interesting and unusual piece on the record. Green teams up with the all-male a capella group Straight No Chaser for a comically theatrical rendition of "You're A Mean One Mr. Grinch," interspersed with excerpts from the original Dr. Seuss text.
This is about where the album reaches its peak. Some of the songs that follow are more obscure, like "River" and the heavily religious "Mary, Did You Know?," both of which are beautifully performed, but just a little too solemn. Almost too typically, Green tackles Mariah Carrey's "All I Want For Christmas," without straying too much from the original, making for a pretty blasé listen. Of course, not to be short on cameos, Green throws in one last duet with renowned adult contemporary singer Rod Stewart and the famous Trombone Shorty. Still, the impact is not nearly as lasting as the first half of the album. However, he elegantly closes with possibly the best cover on the record. Green's version of "Silent Night" is soothing and poignant at first, building in dynamics with a marching rhythm, multiple modulations, and an uplifting orchestral and choral arrangement to finish.
Although there are plenty of Christmas albums that come out every year, CeeLo's Magic Moment strikes just the right balance of fresh and traditional, without being too cheesy. Whether you like it or not, these songs are here to stay and will likely become a regular addition to annual Christmas shopping playlists.
If you like CeeLo Green, then you might also like Ourstage's own Jasper Sawyer.
More Like This:
Review: Colbie Caillat's ˜Christmas In The Sand'
The Editorialist: 8 Holiday Covers You Need To Hear
FUN. Cover Christmas Classic, Sleigh Ride