Can Mariah Carey Rise Again?
Since the turn of the century, Mariah Carey's once-seemingly indestructible career has twisted and turned, going up and down and back around like that roller-coaster ride in the video for "Fantasy," one of her biggest songs from the last century.
Ups: The Emancipation of Mimi, the best selling album of 2005 in the US, which featured "We Belong Together," the biggest solo single of Carey's career, and a well-reviewed supporting performance in the Oscar-nominated 2009 film Precious. Downs: a flop film/soundtrack combo (2001's Glitter), under-performing albums and singles and that public meltdown that sent her star shooting in the wrong direction for most of the first half of the millennium.
Now that star is in a state of flux, teetering, thanks to her last album, 2009's Memoirs of an Imperfect Angel, which yielded mixed results. Though it received decent reviews, it launched only one Top 10 single (the Eminem-dissing "Obsessed"), and became her first studio album not to at least go platinum. A Memoirs remix album, Angels Advocate, was scrapped, and not even a tacked-on Nicky Minaj cameo could pull "Up Out My Face," the first single from the aborted project, higher than No. 100 on Billboard's Hot 100.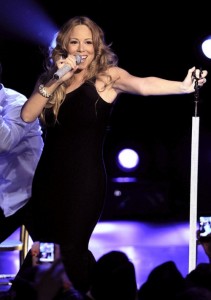 But through the rain (to quote the title of one of her downs), nobody ever accused Carey of being over. In fact, the timing might be perfect for her to launch a full-scale comeback, which unofficially began on March 1 with a forty-minute show at New York City's Gotham Hall, her first performance since giving birth to twins Moroccan and Monroe on April 30, 2011.
Adele is helping to make the Hot 100 once again safe for sisters with voices, and the death of Whitney Houston has increased the void that she and Carey spent the '90s filling. Like Houston, she specializes in the sort of big, melismatic R&B ballads that have been MIA from the tops of the pops for several years now. Carey could use one to claw her way back to the top of the diva heap, but she'll need a sturdy comeback plan. Here are five guidelines she should scribble on it.
Choose your collaborators wisely. Carey has released little new music since 2009, aside from her second holiday album, 2010's Merry Christmas II You, and a re-recording of her own "All I Want for Christmas Is You" with Justin Bieber for Under the Mistletoe, his 2011 Christmas album. Though that's precisely the kind of collaboration she should avoid in the future (a forty-something woman need not be seen and/or heard cavorting musically with a teenager), the recent news that she's been in the studio with Jermaine Dupri, who co-wrote and co-produced "We Belong Together," is already music to these cautiously optimistic ears.
Sure Carey could probably score at least one quick hit by hooking up with Dr. Luke, will.i.am or David Guetta, but why chase after the scraps that all of those other pop divas have been picking on, or invite such overexposed rappers like Minaj and Lil Wayne into the studio to spice up whatever she's cooking up? She and her longtime cohort can produce a gourmet meal that fans won't be able to feast on anywhere else.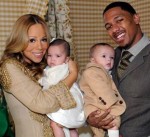 Keep leaving "dem babies" at home. It was wise of her to refer to her twins with husband Nick Cannon only in onstage banter at the New York City show and not actually trot them out. Sex sells, and although motherhood is sexy, nobody wants to see Carey pushing around twin baby strollers in a little black dress.
Get involved: Sign up for as many extracurricular activities as possible. It's hard to imagine that Jennifer Lopez would have scored a comeback hit last year with "On the Floor," or a plum spot Oscar-presenting with Cameron Diaz at this year's Academy Awards if she'd never signed on as an American Idol judge. (Does that mean she has Idol to blame for that unfortunately exposed nipple while co-presenting Best Costume Design and Best Makeup?)
Carey was at one point mentioned to fill the Idol seat that Lopez eventually snagged. Now that Paula Abdul is gone from the US X Factor, Carey should lobby hard with Simon Cowell to take her place and then use the show to launch the first single from her next album.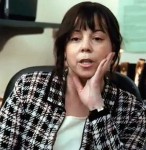 And don't forget, you're an actress, too. After a few false starts, Carey finally proved herself in Hollywood with her small but pivotal performance as a supportive social worker in Precious. Since Whitney Houston is no longer around to reprise her role as Savannah in the planned sequel to Waiting to Exhale, Carey should make sure that she, and not Oprah Winfrey, as has been suggested, is next in line to replace her.
Act your age, not Katy Perry's. Carey once told me during an interview, that her baby-doll persona is totally wink-wink: those sideways glances, the fluttering of her eyelids, calling fans her "lambs""all an act. I got the joke, but unfortunately, it only made it easier to believe she'd suffered a serious breakdown in early 2001, since she'd always acted a little… off.
Now that she's in her forties, it's time to overhaul the life-size-Barbie image. Adele became the biggest pop star in the world without a single gimmick. Carey should follow suit and rely solely on her voice. It's still in working order, and for all her ups and downs this century, it's the one thing that hasn't failed her yet.