Going to Ultra?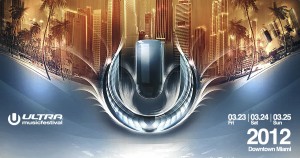 Going to Ultra Music Festival in Miami? Here's a quick rundown of all the craziness attendees should expect.
With 200,000 tickets sold, 2012 is the biggest year yet for Ultra. There are a total of 12 stages to bounce between, three of them bearing the name "Ultra Mega Stages." Performing next to the best DJs in the world will be a variety of sideshow performers traveling from as far as New York, Ibiza, Amsterdam, Paris, Rio and LA. All kinds of beverages (alcoholic and non-alcoholic) will be sold throughout the event, along with international and classic American cuisine. Remember to dress comfortably, because Miami weather is always terrific, but the city gets deadly hot in the afternoon. By the way, there will be a ginormous sound system, so do your ears a favor and bring some ear plugs.
The day 1 Main Stage will include acts such as Tiesto, Skrillex and Afrojack. Day 2 will have performances from Avicii, Justice, Fatboy Slim and Zedd. The grand finale, featuring Steve Aoki, Armin Van Beuran and Kaskade will close out the festival on day 3. In addition, there are a million other artists (not literally, but there are a bunch) playing alongside these folks. They'll perform on one of the eight stages throughout the three days, including the BAO Dome and Eco Village.