Ultra 2012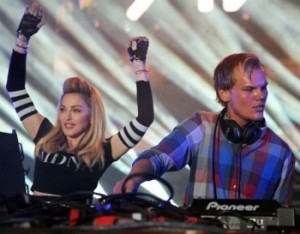 Over the weekend, 160,000 ravers gathered in South Beach Miami for the 2012 Ultra Music Festival. Taking the crowd by surprise, the event attracted several iconic celebrities, all of which shared their appreciation for EDM.
For starters, Madona's introduction of headlining DJ/EDM producer Avicii was quite memorable."Electronic dance music has been a part of my life since the beginning of my career," she told the crowd. "I can honestly say a DJ saved my life." (A reference to Junior Vasquez.) Lastly, she proposed a question for the audience: "I have a few questions for you," she shouted. "How many people in this crowd have seen Molly? Are you ready to dance? Are you ready for the next DJ, motherfuckers?"
19 year-old Porter Robinson and 17 year-old Madeon performed memorable sets as well. The YouTube sensation and glitch-electro DJ tore up the UMF Korea Stage. Despite their age, these youngsters have acquired an incredible fan base over the last year. Robinson alone has opened for Skrillex and Tií«sto, topping the iTunes dance chart, and sold out his own headlining tour.
Afrojack brought some celebrity buddies as well. During his awesome performance, rumored girlfriend Paris Hilton and rap buddy Lil' John waved to the crowd and showed their support.
Fatboy Slim broke some local rules by mixing LMFAO's "I'm in Miami, Bitch" into his set. However, I'm sure most of the natives didn't mind because the performance with inarguably amazing – as you can see in the video below.