Your Country's Right Here: Prepare to Fall in Love with Sweet Wednesday

Think about the last time you received an unexpected and totally delightful gift.
That's just how I felt when I heard the music of Sweet Wednesday. You'll forgive the gushing when you hear the alt-country, folk, roots sound of the Boston-based duo known individually as Dave Falk and Lisa Housman. I didn't think musicians made music this addictive anymore. Not since Joan Baez, Glen Campbell (courtesy of Jimmy Webb songs) and Joni Mitchell, anyway.
What I love is the story telling in folk, said Housman. I'm a lyrics person and when the lyrics get me, then that is the song that I am going to love. That is one of the things that got me about folk was the beautiful harmonies.
Still it was something of a surprise for Housman when she met Falk about twelve years ago and soon found herself collaborating with him. For one thing, Falk was a rock and blues guy and Housman was a folk fan. Perhaps that's why the songs the two perform as an acoustic duo have so many influences, though it's often Housman's clear, emotive vocals that steers the music"and steals the show.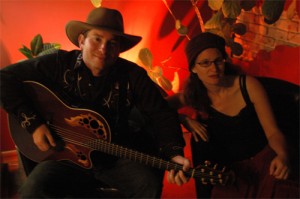 That's no small feat when you consider Falk plays guitar, mandolin, harmonica, banjo and violin and Lisa plays guitar"all beautifully I might add. Their playing is such that they could certainly enjoy success if they played nothing but instrumentals.
Lucky for listeners the two haven't gone that route, preferring instead to develop songs with hearty vocals and lilting harmonies. The two are true road warriors, in the US and Europe, and have also won a host of prestigious songwriting awards.
Now that the two are looking toward their May release of their latest album Escaping from the Pale Moonlight, that's not likely to change anytime soon. And that's just the way the duo want it.
With music, it's important to love every aspect of what you do, said Housman.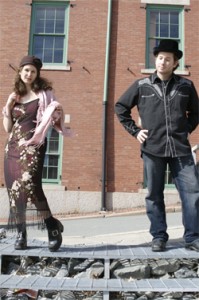 I love writing songs, I love practicing, I love when our music makes people happy. It just fills my soul.
Prepare to have the duo's music do the same to your soul, especially with the songs on this latest album that are full of the type of imagery that can only be likened to a Joan Baez or Leonard Cohen song"really, that rich and magical.
We wanted to take listeners on a journey through dark times, said Housman of the songs on the album. It's [akin to] going through a dark storm with waves almost pushing the ship over. You almost feel as if you're going to drown and manage to break free and have this wonderful feeling of elation sweep over you.
With a description like that during a casual conversation, you can imagine the power of Sweet Wednesday's music.
But don't imagine. Go to the group's website to hear and buy the music as well as find tour dates.