Sound and Vision: Wanted: An Out and Proud Gay Or Lesbian Chart Phenomenon!

Gays and lesbians have come a long way in entertainment since the days when George Michael had to have faith and pretend to want a woman in the "Father Figure" video to sell millions of albums. Although there's no telling whether Queen would have been as successful in the '70s and early '80s had Freddie Mercury definitively outed himself as a lower-case queen, for the most part, today's closeted male superstars don't have to wait until they are about to succumb to an AIDS-related illness to publicly acknowledge their sexuality (like Rock Hudson did)"or not (like Liberace and, well, Mercury).
That doesn't mean coming out of the closet still won't have a negative effect on the bankability of gay music stars. This is why most of them still choose to wait until they don't have too much to lose. Elton John, Ricky Martin, Clay Aiken, Savage Garden's Darren Hayes and Michael all did it after their blockbuster days were over.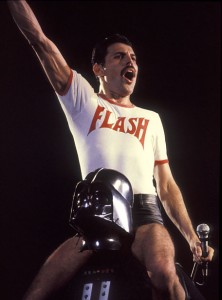 Though Hayes continues to release solo records that earn critical raves, it's been years since he was A-list on the charts. John is a superstar for life, but his most notable post-coming out success (the 33 million-selling worldwide No. 1 single "Candle in the Wind '97") was with a song he sang to a dearly departed princess. How gay! Rufus Wainwright, despite critical plaudits, has never had gold album in the US.
Then there is Adam Lambert, the perfect example of how to be an out and gay pop star. He has a vociferous fan base, but his commercial performance isn't commensurate with his level of fan devotion. He should be selling as many singles as Justin Bieber, but his last one, "Better Than I Know Myself," was a chart dud (No. 76 on Billboard's Hot 100), resulting in Trespassing, his sophomore album, being pushed back from March to a May 15 release date. Do we blame it on a weak single, or a pop constituency that's still skittish about fully embracing a proudly out singer?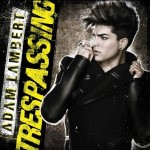 He wouldn't be the first one to be affected by fickle fans. Did Boy George's androgynous shtick in the ˜80s make his sexuality more palatable to the pop masses while contributing to his lack of commercial longevity? (Any androgynous pop star would seem destined to have a short shelf life"which might be why Annie Lennox was embracing straight-up womanhood by 1985's Be Yourself Tonight.) Would his short commercial hurrah have lasted longer if he hadn't gotten hooked on heroin, or slept with guys, including Culture Club drummer Jon Moss? Pet Shop Boys were probably successful for as long as they were because they cloaked their gayness in a shroud of sexlessness and emotional detachment. (That said, their 1990 album Behaviour remains the ultimate musical statement on the state of being gay in the late twentieth century, along with Morrissey's Vauxhall and I.)
More recently, Pete Doherty got away with toying with his sexuality and kissing a guy in the 2009 video for The Last of the English Roses, perhaps because of his hard-partying lad image, but the song wasn't a hit. Had the considerably more fey Morrissey been given to making out with the Smiths guitarist Johnny Marr onstage, his band probably wouldn't have ended up being so iconic among straight men. He's always seemed to want the world to think that he's never been loved, never been kissed, never been deflowered. Don't ask because he wouldn't tell.
Melissa Etheridge, on the other hand, did. She had some success after coming out in the early '90s, but her image was always bigger in the media than her songs were on the charts. Ditto k.d. lang, whose Ingénue album, a song cycle about unrequited love written from one girl to another, might be the greatest commercial/critical triumph by an out performer. (It was certified double platinum and won a GRAMMY.) Had she been as straight as Adele, there's no telling to what commercial heights it might have soared.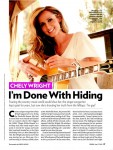 Meanwhile, country singers Shelby Lynne and Chely Wright wander along the fringes of the mainstream. Despite her belated 2000 Best New Artist GRAMMY win a full decade after releasing her debut album, Lynne, who has never officially used the L word to describe herself, has also never had a major commercial hit. If the great, late Dusty Springfield (incidentally, covered by Lynne on her 2008 tribute album Just a Little Lovin') had lived her life out and proud, how would her career have played out?
Nowhere is the stigma of being a gay entertainer more harshly felt than in the world of R&B and rap, despite what the Game says. I think there are several rappers that are in the closet and gay, and see those are the type of gay people"the only type of gay people that I have a problem with, the rapper said in an interview last year. I don't have a problem with gay people. Like, Beyoncé should've said, 'Who run the world? Gays,' because they're everywhere.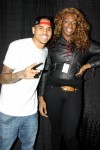 It's a refreshing point of view, but hip hop is perhaps the only genre where performers can sell a homophobic lyrical agenda and still get GRAMMY love. Consider Eminem, or R&B-singer-turned-sometime-rapper Chris Brown, who has been on both sides of homophobia in music. Last year, he was slammed for what were considered a series of homophobic tweets. Then earlier this year, he was slammed some more for posing for photos with a transgender fan. Of course, Brown is straight, so none of this will likely have a negative effect on sales of his forthcoming album, Fortune, when it is released on June 29.
That's what makes all of his bitching about conspiracy theories and haters who are out to get him so intolerable. How does he think Matt Morris feels? If the openly gay son of country singer Gary Morris were straight, he might sell as many records as Brown, or Justin Timberlake, who like Morris, was a member of the Mickey Mouse Club in the '90s. As it is, however, Morris is a talented singer-songwriter with a sterling musical reputation yet only one Top 40 hit: "Hallelujah," a cover of the Leonard Cohen classic that went to No. 13 in 2010 after he and Timberlake performed it on the Hope for Haiti telethon.
But then, maybe straight guys don't have all the luck on the charts, after all. Unlike his former fellow Mickey Mouse Club member Tony Lucca, Morris has never had to dodge weekly criticism from MMC alumnus Christina Aguilera every week on The Voice. That's got to count for something, right?