Spotify's Australia Launch Met With Support And Skepticism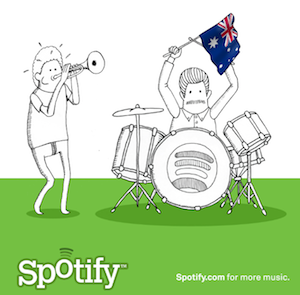 Internet denizens from down under received a special hello yesterday. The message rang out a little differently depending on one's country of origin. "G'day," it began for the Aussies and "Kia Ora," for the Kiwis. Both audiences were then encouraged to "Spotify here."
Yes, the interactive music streaming service Spotify made its debut in Australia and New Zealand yesterday. But it wasn't all free tunes and good news for the company. Triple J reporter Sophie McNeill addressed some of the typical complements and complaints lobbed at the service during an interview with Spotify Managing Director Kate Vale. While some have questioned the depth and presence of local Australian artists on the service, Vale was quick to point out that Spotify's 16 million song catalog would present a wealth of options for users. Vale has also noted Spotify's desire to make everything available globally.
However Vale had an issue addressing questions regarding royalty payments and transparency:
Sophie McNeill: "Is Spotify going to make public its finances when it comes to contracts with the labels and how much they receive per play of the songs that they own?"
Kate Vale: "I don't think so at this stage."
McNeill: "Why?"
Vale: "I'm not sure."
Vale did not go into further detail regarding the issue. Vale later asserted that Spotify has been instrumental in combating music piracy in every country that it is featured in and refuted a claim that Lady Gaga had only earned $167 for a million streams of her song "Poker Face." So while Spotify is sure to hit big with music lovers in the Southern Hemisphere there are still some questions about the service to be addressed.